Home /
Mod Apps /
Animated Sticker Maker MOD APK (Premium Unlocked)
1.33
Developer
Memento Apps Inc
Updated
Apr 17, 2023
Size
46M
Version
1.33
Requirements
5.0
Downloads
10,000,000+
Get it on
Mod Info
● Premium Plan Activate.
● Skip New Feature Introduction.
● Skip What's New Dialog.
● All Unnecessary Menu Item Remove Like:
– Choose Plan, Help, Privacy Policy.
● Ads Removed / Disabled.
● Ads Related Activity & Code Removed / Disabled.
● Ads Related Layouts Visibility Gone.
● Analytics / Crashlytics Removed / Disabled.
● Receivers and Services Removed / Disabled.
● Google Play Services Check Removed / Disabled.
● Google Play Store Install Package Check Disable.
● In-App Billing Service Removed / Disabled.
● Play Services, Transport, Firebase Properties Removed.
● All Unnecessary Garbage Folder & File Removed.
● Duplicate Dpi Item Remove Like:
– Bar Length, Drawable Size, Gap Between Bars.
● Splits0 File Removed (Resources & AndroidManifest).
● Splits0 Releated Unnecessary Meta-Data Remove Like:
– Stamp Source, Stamp Type Standalone Apk, Android Vending Splits, Android Vending Derived Apk.
● Optimized PNG Save To 330 Kb.
● Optimized JPG Save To 381 Kb.
● Re-Compressed Classes.dex & Library.
● Optimized Graphics / Zipalign.
● Removed Debug Information (Source, Line, Param, Prologue, Local).
● Total Apk Size 46.9 Mb.
Description
Animated Sticker Maker MOD APK (also known as Free Sticker Maker, FSM) Now, you can create animated stickers. Import it from GIFs, Videos, Cameras, GIPHY, or draw your animations. Then you can edit each frame of the animation, drawing, adding text, emojis, and more.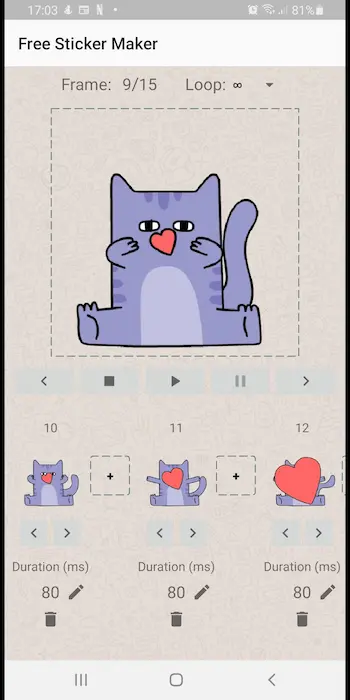 Create your stickers for WhatsApp and share them with your friends. Very easy to use! You can take pictures from Gallery or Camera, crop, erase the background and draw! Each operation can be undone and redone for a more precise edition of your stickers.
Make sticker packs for your pets, your couple, your family, your friends, famous people, and politicians!
With the new tab «Community» you can download stickers created by other users.
Features:
-Unlimited sticker packs quantity!
-Until 30 stickers per pack
-Take pictures from Gallery and Camera
-Crop images
-Erase background
-Draw with many colors
-Paint with color filters
-Undo and redo operations
-Add and update WhatsApp
-Import and create animated stickers
-Edit animated stickers frames
-Add stickers from the community!
-All FREE!!
What's new
V1.33) WebP files support / Connection with WhatsApp Media folder
V1.32) Social media links / Copy or move stickers
V1.31) Fonts and emoji improvements
V1.30) Tab latest & random in the community / Bug fixes
V1.29) Add stickers from the community!
Images