Developer
APUS Group
Updated
Jul 20, 2023
Size
28M
Version
3.11.0
Requirements
5.0
Downloads
100,000,000+
Get it on
Description
APUS Launcher, a lightweight and intelligent Android Launcher, is the flagship product of the APUS User System, which delivers an intuitive user experience to 250 million users worldwide. It anticipates your need and surpasses your expectations.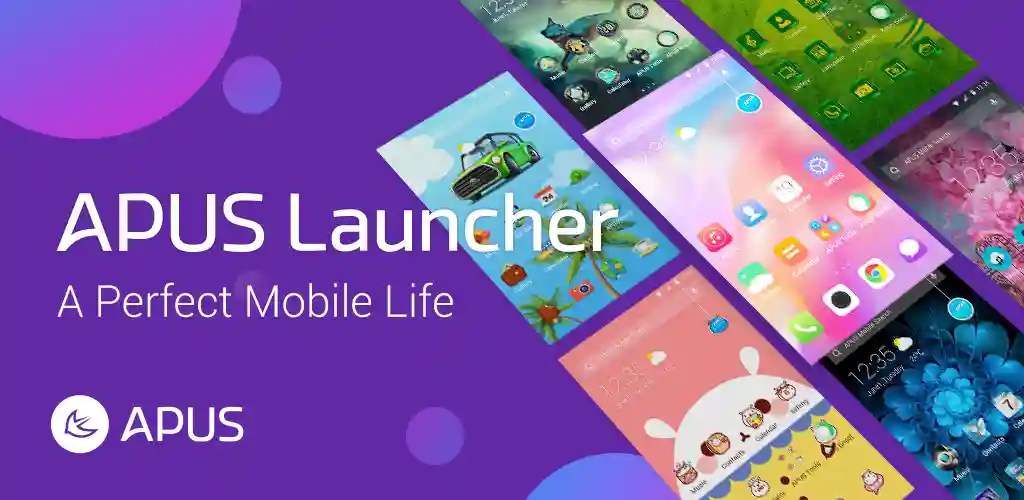 Let's make your phone faster & stylish with thousands of themes, wallpapers and HD icons.
Check more APUS theme at _http://store.apusapps.com/theme_index.php.
APUS Launcher, a platform of the APUS User System, is designed in a perfect balance between super performance and personalization to make your Android phone easy to use. With more than 300 million users around the world, APUS Launcher is one of the best Android launcher on Google Play.
How can APUS Launcher improve Android mobile?
Personalization: APUS provides thousands of free beautiful wallpapers, themes as well as HD icon packs for you to personalize your Android phone. Material design, cartoon, anime, any style you need, we have it.
Better Performance: APUS Launcher is specially optimized for all Android devices, including phones and tablets. Even phones with slow processors and low memory (RAM) can run fast and smoothly as you wish as intelligently, APUS will clean memory (RAM) and speed up the phone.
Battery Saver: Optimize your Android phone, and extend battery life up to 25%.
User-Friendly: This launcher is designed to make your Android phone easy to use. Settings, recent apps, everything is at your fingertips.
Informative: Weather, news, traffic, etc., learn everything from your phone.
What can APUS Launcher do for you?
APUS Boost: In one tap, clean memory (RAM), close unnecessary background apps, boost mobile and save battery power at the same time.
APUS Know: One and only. APUS Launcher provides personal and contextual service for you. The more you use it, the better it gets you.
APUS Headlines: Customize your own news. Browse the latest high-quality news only one swipe away. APUS only presents the best for you.
APUS Discovery: Next-generation radar system. Expose yourself to the most trending apps nearby.
APUS Personalization: Personalize your home screen with thousands of free wallpapers, beautiful themes, and HD icon packs. More gorgeous new wallpapers and themes released every week.
Smart Folder: Automatically categorize, APUS Launcher helps organize your apps according to your usage habits. Find it fast and quickly.
APUS Search: Installed apps, contacts, websites, anything there is, APUS Launcher will quickly find it for you.
Free Swipe: Get only one swipe away from recent apps and settings.
APUS Picks: Optimized app store. APUS will introduce you to the most popular useful apps and fun games.
Power+: After boosting and making the phone faster, save battery life and monitor battery usage.
Unread Count: Never miss an important message again. Unread count badges for messages, phone calls, Facebook, WhatsApp, Wechat, etc. (need support from APUS Message Center).
APUS Launcher believes in user-driven development. You say jump, we say how high.
Images