Description
If you want to try this for free, check out AudioFix: For Videos. Instantly adjust the audio in your video. Import a video and AudioFix immediately cleans its sound and maximizes the volume. We also offer an adjustable 6-Band EQ giving you full control of the sound in your video. You can also mute or extract the audio from your video. A simple and powerful tool to improve the sound of your videos.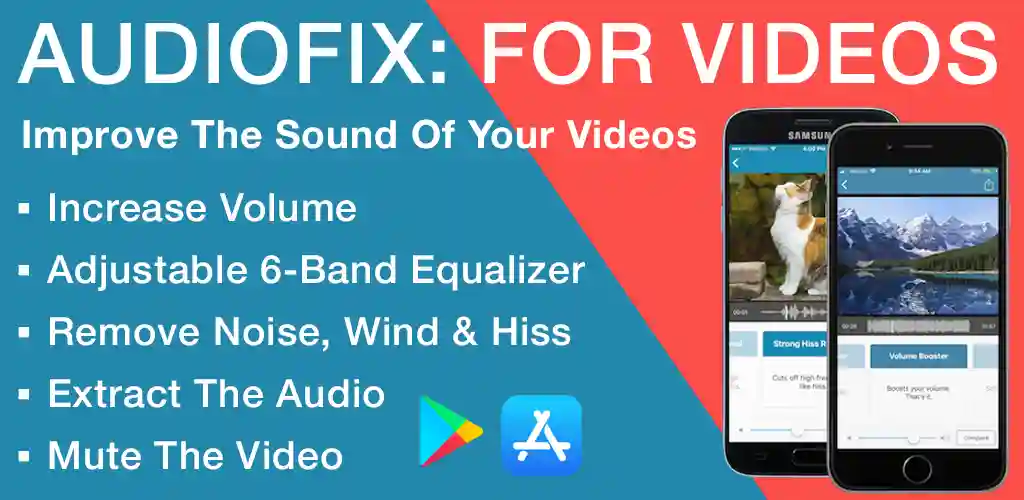 A powerful tool for anyone that shares videos on social media. A simple volume booster, audio editor, and noise reduction tool for videos.
We also offer a fully adjustable equalizer to adjust the sound of your video.
We offer a fully adjustable 6-Band equalizer so you can change the gain and Q of any frequency band. The sound in your video is now totally changeable with the use of our EQ..
Choose from several noise reduction filters to get rid of hiss, wind and other noise to instantly clean your audio. Press and hold 'compare' to hear the difference from your original. Press and hold on a filter to bypass so you only hear the volume change.
AudioFix: For Videos also has a 'Live Music' filter that automatically enhances the audio of a music video.
FEATURES
▪ Automatically boost the audio in your video
▪ Use a 6-Band EQ to fully adjust the gain and Q of any frequency
▪ Choose from 12 filters that enhance your audio
▪ Extract and export the audio from your video
▪ Mute the audio in your video
▪ Save as original size or compress file size for sharing
▪ Easily compare to your original video
▪ We never overwrite your original video
▪ Press and hold a filter to bypass it
A video audio equalizer, noise reduction tool for filmmakers, video makers, video editors, audio editors, Vlogs, video hobbyists, or anyone that shares their videos.
"Sound is half the picture" – George Lucas
Whether it's a video of your band, a video of your cat, or a video of you singing, make sure your video makes a great first impression and hits the viewed by boosting improving the audio in your video.
If you have any questions, email us through the side menu of the app. We answer every message.
Images