Developer
stylish app world
Updated
Jun 19, 2023
Size
13M
Version
1.2.9
Requirements
5.0
Downloads
500,000+
Get it on
Description
Auto Background Changer allows you to change the photo background, you can erase or remove any portion of the background. This background eraser supports a good collection of background themes, multiple tools to erase photo background, and also photo effects, this is a professional photo background eraser.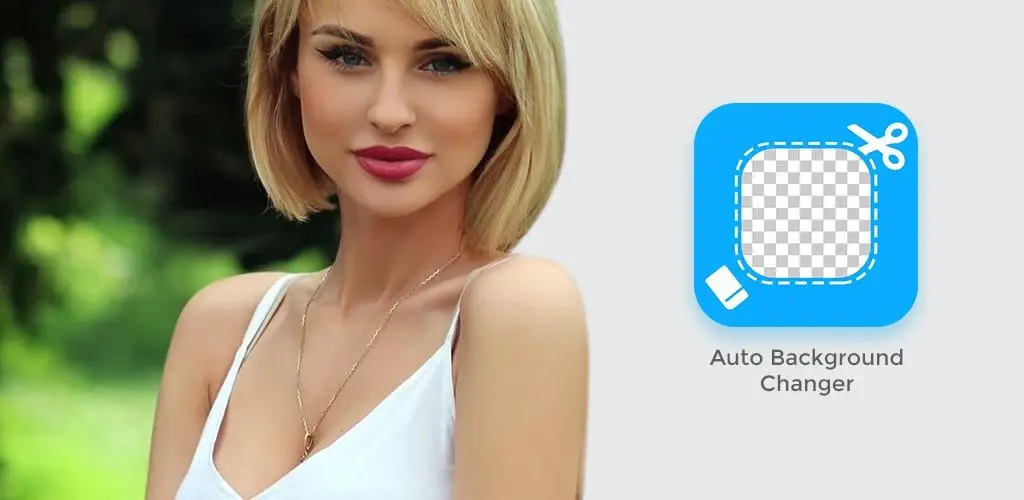 This background eraser supports multiple erase modes and Handy Tools like
1. Auto erasing: This mode allows you to Touch and erase portions of the image based on Color, Threshold, and Texture. Use this for Fast Processing when the background has similar colors
2. Manual: This allows you to Erase Manually by just using your finger as a brush. Use Offset for easy erasing.
3. Extract: This allows you to select an area to Cut by just drawing a closed-loop
4. Restore: This allows you to restore erased areas.
5. Zoom: Zoom your picture for the perfect cut
6. Magnifying Glass: This shows you which portion are you cutting/selecting.
7. Different Brush Types: Change Brush Size and Brush Type – Circular and Square
8. Undo/Redo Option for handling any mistakes.
Cut Photos, Erase Backgrounds, Create Photo layers Superimpose and Photo Montages with this easy-to-use Auto background changer.
Auto Background Changer supports powerful photo editing options like sharpen, bright, opacity, and contrast. Auto Background Changer also supports beautiful background themes, you can even pick images from the gallery and camera to set them as a background. Background changer also has the color option to set colorful background.
Background remover supports the below features:
1) You can select and cut Photos particular area of the image using this background remover.
2) Background remover supports adjustable brush to erase or remove a particular portion of the image
3) Background remover supports the good collection of themes and Images
4) Background remover also supports beautiful photo effects
5) Multiple erase tools to remove photo background – Auto Background Eraser, Extract Mode, Manual Cut Paste Photo, Restore Functionality, Seamless Merge to other backgrounds.
6) Features a wide range of tools and options for removing image backgrounds ñ ex. crop, undo, redo, cursor offset, marker size, background repair, background color, smooth edges, etc.
7) Magnifying glass: It helps to cut the image precisely across the edges. It's very important to make a picture's background transparent accurately.
9) Blur Background Photo editor tool is your Auto Background Changer.
10) you can create an awesome color splash effect tool
11)Create WAStickers, Color Splash Photo Effect, Blur Image Background Editor (Blur Photo Editor)
Background Changer can be used for
1. Change the background of your cutest photo
2. Teleport yourself (your photo) to different places
3. Create Family Photo Montages by creating Photo layers and Superimpose.
4. Family Photo Frames by superimposing all your loved ones' photos.
5. Put all your Baby Milestone pics in One Photo
6. Merge your party Photo and create a photo montage
7. Party Photo Booth – Superimpose multiple Events on a plain or designer background.
8. Create Free Form Photo Collage by pasting multiple cut photos into background photos.
9. Cut from photos and paste the content in other photos.
10. Create customized photos with animals, people, famous places, mountains photos, objects, beaches, rivers, etc.
11. Cut the objects from photos and place them on a different background. Create new photos with these simple applications.
12. Create your Library of Cut Photos and Create Awesome Photo Montages
13. Create Movie Posters
14. Superimpose photos and make good composite photos.
.. and many more…
Background Eraser is a free image background removal app. With this app, you can quickly remove the background of any image and use the extracted image as a stamp, collage, sticker, etc. You can also make transparent images with ease without having to rely on advanced image editing tools
Auto Background Changer is one of the best photo background erasing apps.
What's new
- add new backgrounds
- bug fixing
Images