Developer
LiuZho Soft
Released on
Jun 30, 2020
Updated
Oct 26, 2023
Size
20M
Version
1.7.3.2
Requirements
5.1
Downloads
500,000+
Get it on
Mod Info
★ Pro / Paid features Unlocked
★ AOSP compatible
★ .source attributes of the corresponding java files removed
★ All Debug code removed
Description
BD File Manager is a powerful and free local and network file manager that helps you manage files and applications efficiently. You can also use storage analysis/file analysis functions to free up phone space.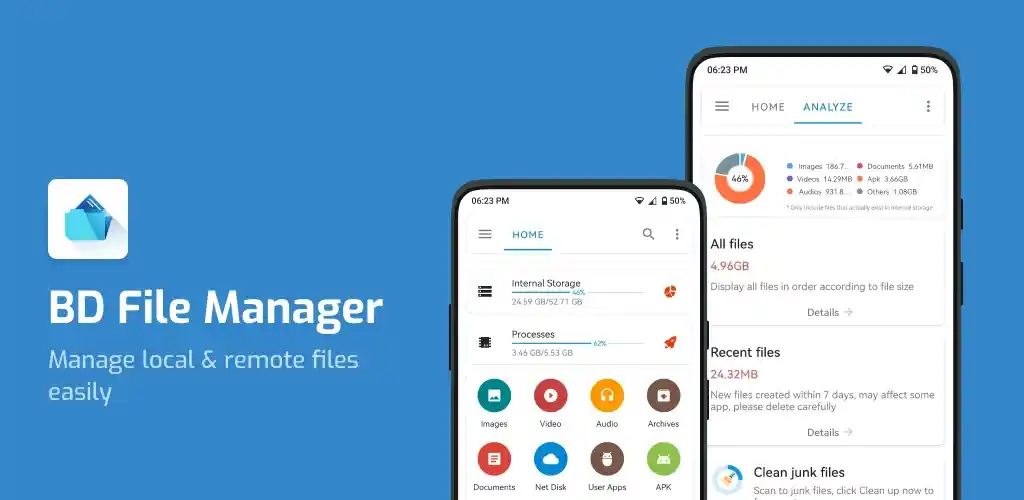 BD file explorer, it powerful, this file manager easily to use.
The main functions of BD file manager:
Powerful storage analysis/file analysis function:
1. Analyze internal storage, clean up empty files, empty folders, log files, temporary files, cache files, redundant files, duplicate files, and large files to free up storage space.
2. Check the folder size and occupancy ratio, let you know the storage space occupied.
Junk files cleaner:
Use Junk Cleaner in BD File Manager, you can find all junk files and clean up.
View hidden files:
View the files hidden by the system and observe the storage space more comprehensively.
Phone storage / SD card / USB / OTG:
You can manage all files and folders on internal storage and external storage.
Download/image/audio/video/document/new file:
After classification, you can easily and accurately find the files you need, and manage files simply and efficiently.
Application:
Easily manage local applications, user applications and system applications. You can also view the detailed information of the application, Activity, permissions, signatures and Manifest files.
Access from PC:
You can access the Android device storage from your PC to manage files on your local Android device using FTP (File Transfer Protocol). Saying goodbye to the data cable is now.
Feature list:
* Application Manager-classification, uninstall, backup, detailed information
* View files in list and grid view
* Compress and decompress files
* Search and share files
* Multiple choices and various classification support
* Thumbnails of photos, videos and apk files
* Basic functions (such as cut, copy, delete, compress, extract, etc.) are easy to use
* Process multiple tags at the same time
* Navigation drawer for quick navigation
* Storage analysis and file analysis
* Clean up storage space and release memory
* Quickly access history, access bookmarks or search any file
* Root browser for advanced users
Images