Developer
Mabuhay Software
Updated
May 26, 2023
Size
16M
Version
12.8.2-11683
Requirements
4.4
Downloads
1,000,000+
Get it on
MOD INFO
● Premium Features Unlocked
● Ads/Analytics Removed
● Compression Flags Untouched
● No Third Party Patch
● No Additional Component
● 15.8 MB
Description
Bluecoins is an incredibly simple finance app that is an excellent expense tracker, budget, and money management tool. It is the complete reporting and analysis app to manage money, expenses, income, and budget.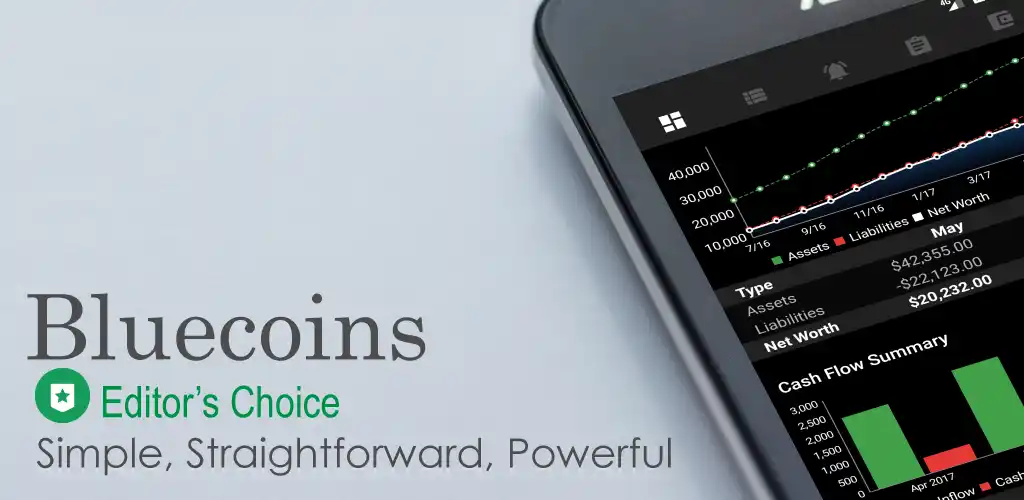 Use it for personal finance, as a family budget planner, or for small businesses! Generate reports of monthly expenses, manage a family budget with your spouse, or export finance records into spreadsheets/pdf! It is easy and be amazed at how you can be a finance and budget expert in no time. Take control of your money right now!
Want to have peace of mind and make your money work for you? – DOWNLOAD NOW!
What makes us the best budget and finance app today?
"minimalist and efficient, with seamless syncing of data across devices. It helps users keep track of credit cards, bank accounts, loans, and debts through graph reports, and allows for customizable budgeting categories that can be viewed per week, month, quarter, and year, among others."
–CNN, July 2018
😉 Finance and budget made easy: don't get lost managing finance. Reconciling accounts with bank records and credit card statements is a breeze. Track transactions conveniently via bank notifications or SMS! You don't have to be an accountant to use good money principles- you'll be good at it while using this excellent finance app!
👩🏻‍🏫 Meaningful reports: easy to understand reports and charts that you easily generate within the app. All finance reports of your money, budget, expenses, income, and more can be readily exported in pdf, excel, HTML. Send reports directly to a printer for printing! The reporting feature of this money app is the best of its class!
👨‍👨‍👧 Manage your money everywhere: access data on multiple devices and with family members- securely! Anyone you share data with can enter their expenses or incomes on their device. Use Google Drive or Dropbox to synchronize and jointly track money, budget, and finance. And with the excellent multi-currency feature, manage your money, anytime, anywhere!
Bluecoins finance and budget is Google Editor's Choice in 2021
Other key features: Password/fingerprint security, QIF/CSV import, bill reminders, cash flow & net worth analysis, cryptocurrencies support, future finance/expense/income projections, money currency exchange, multi-language support, multiple themes support- including AMOLED dark themes.
Permissions: all permissions will require user authorization and are detailed at our Privacy Policy link available in the Developer contact information.
Any feedback or concerns? Please email us at [email protected] and we will be happy to assist.
What's new
v12.8
Several stability and important library updates
Updated syncing libraries
25% OFF LIFETIME PREMIUM for a LIMITED TIME!
Updates on v12:
Black Theme Updates
New storage permission to comply with Google requirements
New File Picker and Save Dialogs
More filters for account transactions
Print and save transaction to PDF
Help Translate? goo.gl/uwsSra
Images