Developer
Supercell
Released on
Mar 1, 2016
Updated
Nov 9, 2023
Size
300M
Version
40088004
Requirements
5.0
Downloads
500,000,000+
Get it on
Mod Info
Private server with a lot of money!
Unlimited resource (Money/Gold)
Description
Clash Royale MOD APK – Enter the Arena! From the creators of Clash of Clans comes a real-time multiplayer game starring the Royales, your favorite Clash characters, and much, much more.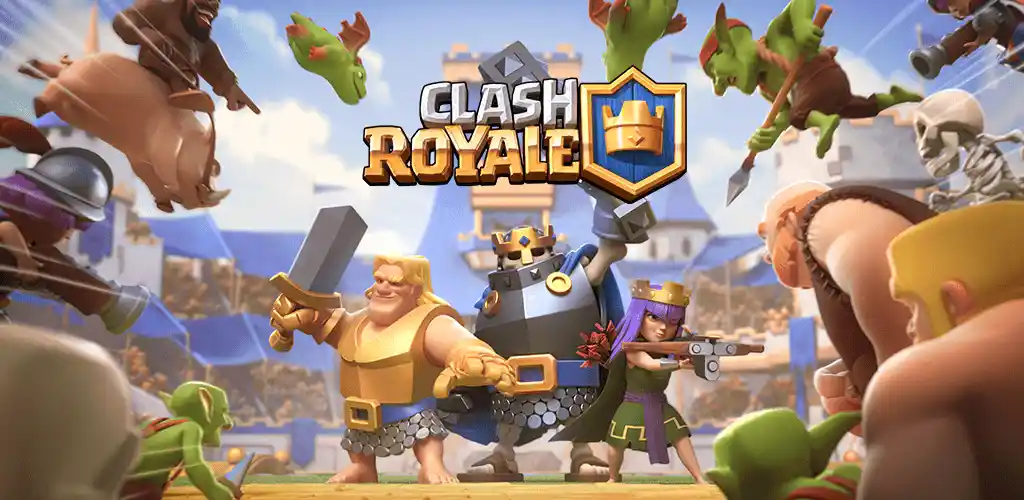 Collect and upgrade dozens of cards featuring the Clash of Clans troops, spells, and defenses you know and love, as well as the Royales: Princes, Knights, Baby Dragons, and more. Knock the enemy King and Princesses from their towers to defeat your opponents and win Trophies, Crowns, and glory in the Arena. Form a Clan to share cards and build your very own battle community.
Lead the Clash Royale Family to victory!
New features:
● Goblin Drill joins the Arena: unlock this brand new card and tunnel your way to victory!
● Extended Trophy road with additional Arenas: earn more rewards and loads of Gold!
● Clan Wars 2 changes, 5 more deck slots, and lots of Quality of Life improvements!
Features:
● Duel players from around the world in real-time in both 1v1 and 2v2 Battles
● Earn chests to unlock rewards, collect powerful new cards and upgrade existing ones
● Destroy opponent's towers and win Crowns to earn epic Crown chests
● Build and upgrade your card collection with the Clash Royale Family along with dozens of your favorite Clash troops, spells, and defenses
● Construct your ultimate Battle Deck to defeat your opponents
● Progress through multiple Arenas all the way to the top
● Form a Clan to share cards and build your very own battle community
● Challenge your Clanmates and friends to a private duel, or play side-by-side in a 2v2 Battle
● Work together with your Clan to unlock Clan Chests
● Take on daily and weekly Quests for big rewards
● Play new events every week
● Learn different battle tactics by watching the best duels on TV Royale
PLEASE NOTE! Clash Royale is free to download and play, however, some game items can also be purchased for real money. If you do not want to use this feature, please set up password protection for purchases in the settings of your Google Play Store app. Also, under our Terms of Service and Privacy Policy, you must be at least 13 years of age to play or download Clash Royale.
A network connection is also required.
What's new
NEW CHAMPION!
• LITTLE PRINCE enters the Arena, and he's bringing his bodyguard along too!
• Command the battlefield with this Champion duo, who combine both ranged and melee attacks!
• Cause mischief with Little Prince's rapid-fire royal crossbow!
• Summon GUARDIENNE, Little Prince's powerful protector!
• Quality of Life features, bug fixes, and improvements.
Images