Developer
Kataykin: apps for education & lifestyle
Updated
Jul 1, 2023
Size
4.4M
Version
3.7
Requirements
4.4
Downloads
1,000+
Get it on
Description
Countdown Calendar MOD APK – Whether you want to remember all your life events that took place and that will be in future? Find out how much time has passed since graduation or how much is left to learn?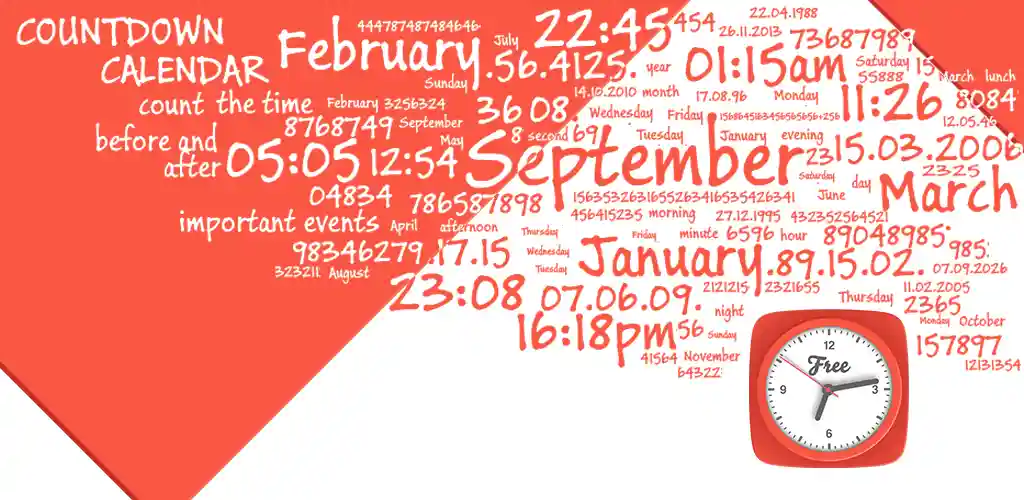 How many seconds, minutes and hours you do not smoke or on a diet? Find out when the birthday of relatives and friends with notifications for a few days and hours before events? How much time is left before the long-awaited vacation? What is the exact age of your child (in days, months and years)? How long before the new year or other holiday?
When the expiry of important documents (driver's license, passport, insurance, etc.) with a notification? Do not forget about important meetings? Do not forget to use medicine and pills (with daily and hourly reminder)? Do not forget to see a doctor or other expert? Do not forget about the monthly payment for utility bills, telephone, internet, insurance? Remind about the expiry of the bank card? This application will be an indispensable tool in your life.
Now you can capture all your life's achievements and victories!
The main features of the app:
– Events can be set in any time format (seconds, minutes, hours, days, months and years);
– Widget for your desktop. You can add a widget for each event;
– Notification about the event. You can add multiple notifications for a few days, hours or minutes before the event;
– Ability to repeat an event (such as an annual reminder of a friend's birthday);
– Assigning colors to each event;
– The separation of events by groups (birthdays, documents, important, etc.);
– The separation of events by date (past, future, all events);
– Ability to view past events (eg, how many have passed since the first birthday and when will the next);
– Backup and restore the database application. You can transfer the database when you change the device (free version has only function of backup);
– Ability to enable the active mode (display is always on).
The difference between the Pro version from the Free version:
– Ability to restore the database;
– No advertising.
What's new
Bug fixes and performance improvements.
Images