DAVx⁵ (formerly known under a different name) is the only all-in-one synchronization solution for your contacts (CardDAV), calendars (CalDAV), and your tasks (based on VTODO). The app is easy to set up and integrates perfectly with your favorite calendar/contacts app (including default apps). It can also be used separately, if you either have CalDAV, CardDAV, or only Tasks. Compatible with almost every CalDAV/CardDAV server and service, including Nextcloud, iCloud, and Synology!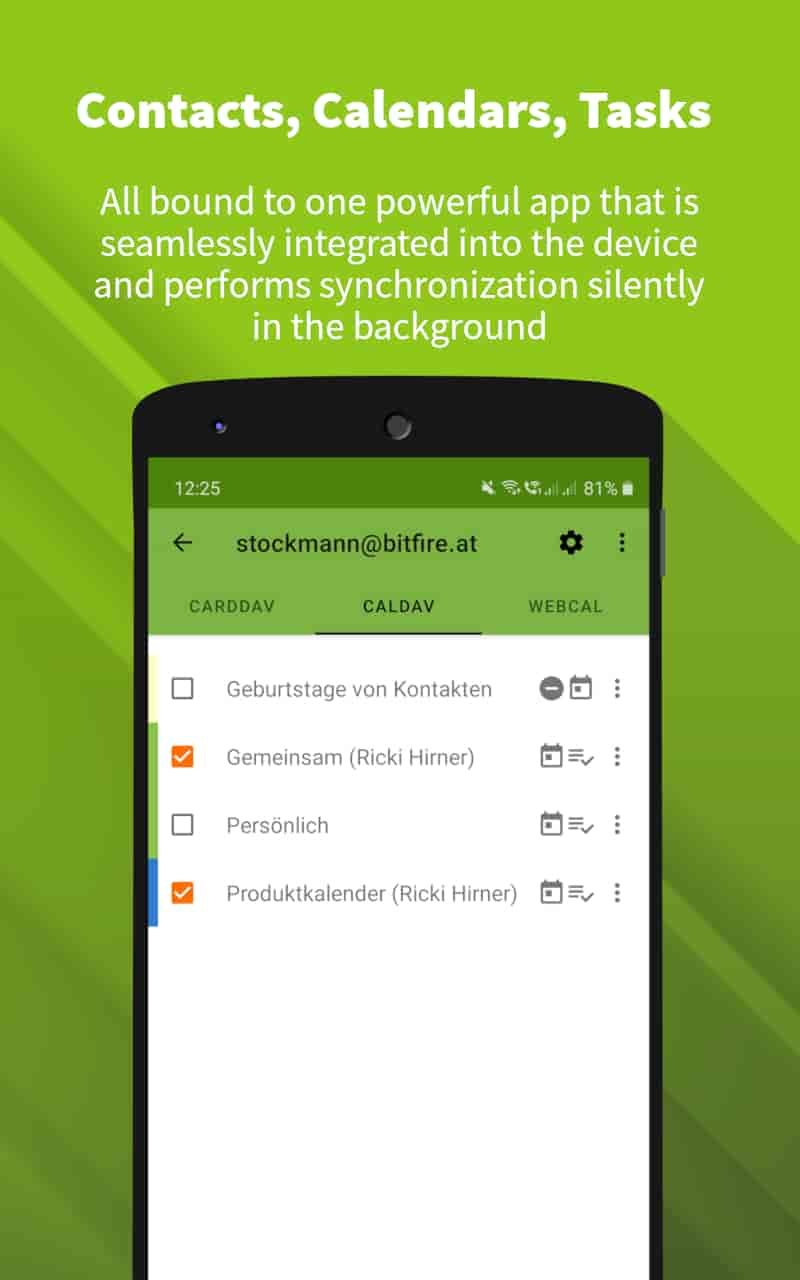 After installing, you can add a DAVx⁵ account from within the app. See https://www.davx5.com/tested-with/ for help. For more information, please see the manual: https://www.davx5.com/manual/, the FAQ: https://www.davx5.com/faq/ and our forums: https://www.davx5.com/forums/
Key features:
⊛ Sync your DAV calendars (CalDAV) and address-books (CardDAV) and Tasks in a single app
⊛ Two-way synchronization (server-client)
⊛ Flawless integration with your device and favorite apps
⊛ Easy setup (resource auto-detection, support for self-signed certificates, authentication by client certificates)
⊛ Fast algorithms for high performance (CTag/ETag, limit sync time range for past events, multi-threaded sync)
⊛ Optimized for phones and tablets. Backward compatibility for old Android versions.
⊛ Super-secure and we respect your privacy!
⊛ No ads and no tracking.
⊛ GDPR compliant.
⊛ DAVx⁵ is completely open-source
Important compatibility notes
Attention: DAVx⁵ must not be moved to the SD card! This will cause strange behavior, including account and data loss.
Get the best out of this app …
⊛ … when using your own DAV server (Radicale, DAViCal, SabreDAV, Baikal, …) and HTTPS – so you own and control all your data while having the comfort of synchronization between various devices. Or use a hosted DAV service you trust or the one of your company.
⊛ … and combine it with Evolution / Thunderbird / etc. on your computer
Successfully tested with:
⊛ 1CRM
⊛ A1.net
⊛ all-inkl.com
⊛ AOL Mail
⊛ Baïkal
⊛ Bitrix24
⊛ Calendar and Contacts Server
⊛ cPanel
⊛ Cyrus IMAP
⊛ DAViCal
⊛ DavMail Gateway
⊛ Daylite
⊛ EDIS
⊛ EGroupware
⊛ Fastmail
⊛ fruux
⊛ GMX
⊛ Google
⊛ Group Office
⊛ Hetzner KonsoleH
⊛ Horde
⊛ IceWarp
⊛ iCloud
⊛ Kerio Connect
⊛ Kolab Now
⊛ Kopano
⊛ lucky cloud
⊛ macOS Server
⊛ mail.de
⊛ mail.ru
⊛ mailbox.org
⊛ Mailfence
⊛ MDaemon
⊛ Nextcloud
⊛ openCRX
⊛ Oracle Beehive
⊛ Oracle Communications UCS
⊛ ownCloud
⊛ OwnCube
⊛ Posteo
⊛ Radicale
⊛ SmarterMail
⊛ SOGo
⊛ Synology DSM
⊛ Teambox
⊛ Tine 2.0
⊛ T-Online
⊛ web.de
⊛ Xandikos
⊛ Yahoo Mail! (calendar only)
⊛ Yandex
⊛ Zimbra
⊛ Zoho
⊛ … and many others: https://www.davx5.com/tested-with/
Also available as a separate business version with Enterprise features like mass-deployment and pre-configurable settings: https://www.davx5.com/organizations/managed-davx5