Developer
Pakdata PDMS
Updated
Dec 14, 2022
Size
24M
Version
3.1.6
Requirements
4.4
Downloads
1,000,000+
Get it on
Description
Now you can write Pashto in any application easily with Easy Pashto Keyboard MOD APK. Also, it is two in one keyboard.. so that you can also type English without changing the keyboard. Changing English to Pashto, or Pashto to English has never been easier and faster.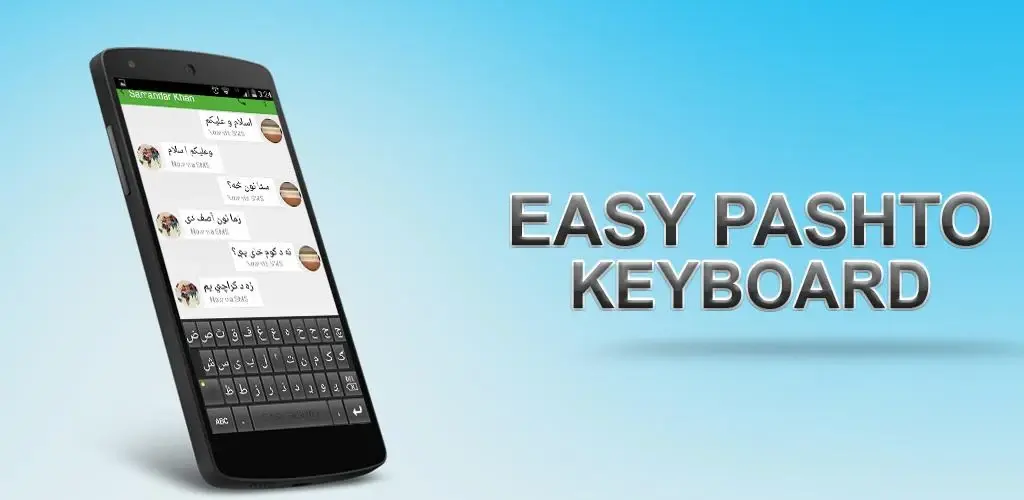 اوس تاسو پښتو پۀ هر يو اپليکېشن کښې پۀ اسانۍ سره ليکلې شئ، هم دغه رنګ دوۀ پۀ يو کيبورډ کښې، پس تاسو د کي بورډ بدلولو نه پرته انګريزي ليکلې شئ، انګريزي پښتو او پښتو انګريزۍ ته ژباړه کول اوس شو اسان او تېز.
Both Pakistan and Afghanistan natives can enjoy typing in the Pashto language.
ONE OF THE EASIEST PASHTO KEYBOARDS (د پښتو تر ټولو اسان کيبورډ)
Pashto keyboards in the stock Android version are not available.
د انډرائډ ورژن پۀ ذخيره کښې پښتو کيبورډ شتون نۀ لري
Our Easy Pashto Language Keyboard represents a useful Pashto online keyboard that has all the Pashto alphabet and can do easy changes of Pashto to English and vice versa English to Pashto.
TWO LANGUAGES, ONE KEYBOARD APP
دوۀ ژبې، يو کيبورډ اېپ
Do you communicate in both English and Pashto, our app is the simplest and the fastest keyboard you need in your everyday communication and use of your Android device.
تاسو پۀ انګريزۍ او پښتو دواړه ژبو کښې خبرې اترې کوئ، زمونږ اېپ تر ټولو ساده او تر ټولو تېز کوم چې ستاسو لپاره د امروزه پۀ خبرو اترو او د انډرائډ ډيوائس پۀ کارولو کښې ضروري دے
PASHTO WORDS PREDICTION
د پښتو د ټکو پېشن ګوئي
The keyboard Pashto options are numerous. However, the most stand out is the word prediction in Pashto for which we are especially proud of.
د پښتو د کيبورډ اپشنز بې شمېره دي. ولې بيا هم، تر ټولو خه معيار پۀ پښتو کښې د ټکو پېشن ګوئي ده کوم چې زمونږ خصوصي وياړ دے.
Type and get help as you type. It displays suggestions as you type and you can easily select them with one tap.
FEATURES (خصوصيات)
* Online Pashto keyboard with tons of useful features (د آن لائن پشتو کيبورډ يو شمير خصوصيات دي)
* Pashto to English change and vice versa
* Pashto prediction of words
* Lets you create contacts in Pashto.
* Send SMS in Pashto
* Post-Pashto on Facebook.
* Search google in Pashto
* Send Pashto messages using WhatsApp, Facebook, Google Hangouts, Line, Viber or any
other app installed your phone.
** Easy Pashto is completely free. **
What's new
- Optimizations and enhancements
Images