Developer
AppFer SRL
Updated
Jul 20, 2023
Size
9.5M
Version
6.10.1
Requirements
5.0
Downloads
1,000,000+
Get it on
Description
Keep your personal or family finances easily under control with Fast Budget. You can check your daily expenses and improve your savings. Visualize the flow of your money at a glance with the fully customizable Overview page. In Fast Budget, you have many tools for managing your money better, like various types of charts or a useful calendar. It is possible to synchronize up to five devices.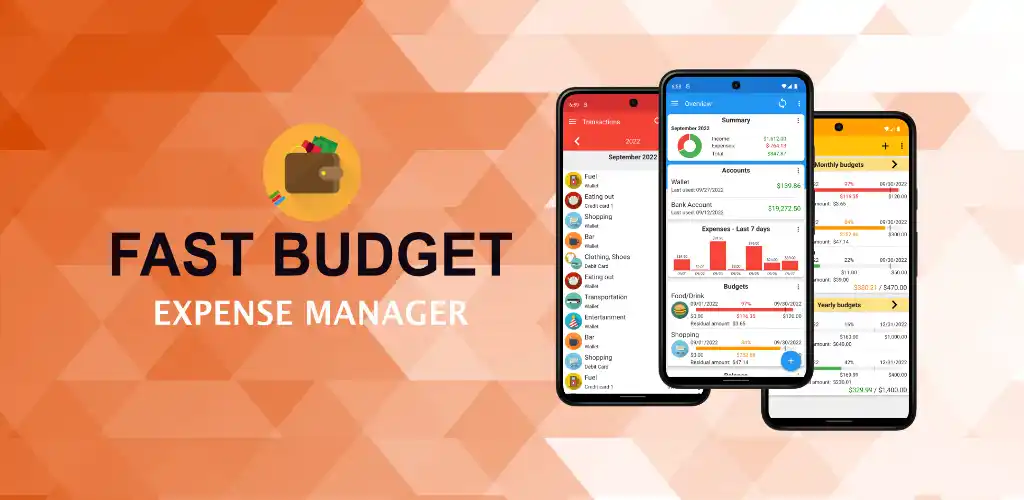 Fast Budget – Expense Manager features:
OVERVIEW
The application includes a customizable overview page to see all the important information at a glance.
ACCOUNTS AND CREDIT CARDS
Create and modify your accounts as you like. There are two account types: normal and hidden.
The hidden accounts can be very useful for tracking small businesses or hobbies.
Use the graphs of each account to check the progress of capital on a daily, weekly or monthly basis. In addition, there is an entire section for credit cards.
Both accounts that credit cards can be used in more than 90 different currencies.
CATEGORIES
Manage your daily expenses and income as you wish.
You can create as many categories as you want, edit existing ones or rearrange them, to have the most used on top of the list.
TRANSACTIONS
Insert your revenues and outgoings in an easy and fast way.
There are various tools within this budget manager to speed up the insertion of a transaction:
• Scheduled earnings and expenditures.
• Transaction templates.
• Default account for your profits and costs.
• Two widgets to accelerate the creation of an operation.
SCHEDULED TRANSACTIONS
Schedule your income or expenses to recur over time.
It is possible to set up a reminder that notifies you when the transaction is due.
BUDGETS
Create custom budgets to always know how much money you still have available.
Budgets are divided by category and you can choose the duration they run for.
You can also select more than one category for each budget.
CHARTS
Control your finances with different graphs: show and compare expenses and earnings to know where to save money.
CALENDAR
Keep an eye on your profits and costs day by day, so you always know how much, when and where you're spending.
You can also see the payments scheduled for the following days.
OTHER
• Synchronize up to five devices.
• Export your data in PDF, CSV and XLS (Excel) format.
• Handle debts and credits.
• Dark mode.
• Automatic backup in Dropbox to avoid data loss.
• Protect your data with a passcode.
• Reminder to not forget to insert your daily transactions.
Some features are not available in the free version.
Check your personal, family or business finances now with this budget planner.
Contact the developer of Fast Budget – Expense Management via email for any problem or suggestion:
[email protected]
What's new
Thank you for choosing Fast Budget!
Each update includes bug fixes and general improvements. If an update includes new features, we will highlight them in the app.
If you need support after an update, contact us from the Settings page, Support section inside the app (Or at [email protected]). We will be glad to help you.
Images