iOS 16 Launcher Pro sets a new standard for the Android mobile operating system. It makes your phone better than before, more beautiful, and luxury. And now it opens up amazing possibilities for a launcher on your phone.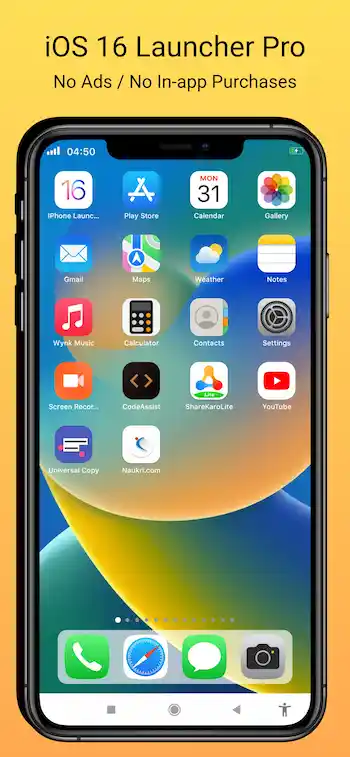 With iOS 16 Launcher Pro, your phone is the most powerful.
It is simple to change the Android system better than before.
Apple devices ain't cheap. If you are a user without a big budget.
You can't afford to buy a lot of iPhone and iPad models.
You'll have to rely a lot on the Simulator when testing.
iOS 16 Launcher Pro will help your phone is powerful like an Apple platform.
iOS 16 Launcher Pro is a stylish, fast and small launcher for your phone. It makes your phone better than before, prettier, and more luxurious. And now it opens up amazing launch options on your phone.
With Control Center, you can quickly access several settings and applications.
– Airplane Mode: use Airplane Mode to instantly turn off Bluetooth, Wi-Fi, and cellular connections on your device.
– Wi-Fi: Turn on Wi-Fi to browse the web, stream music, download movies, and more.
– Bluetooth: Connect to headphones, car kits, wireless keyboards, and other Bluetooth-enabled devices.
– Do Not Disturb Silence calls, alerts, and notifications you receive while your device is locked.
– Adjust Brightness: Adjust the brightness of the display from any screen.
– Flashlight: The LED flash on your camera doubles as a flashlight, so you can get extra light when you need it.
– Alarm clock and timer: Set an alarm, timer, or stopwatch, or check the time in another country or region.