Developer
Make Sticker & Photo Collage & Sticker Maker
Updated
Aug 28, 2023
Size
10M
Version
1.03.14.0828
Requirements
5.0
Downloads
10,000,000+
Get it on
mod info
VIP Subscription Unlocked
Description
Want to make your personal stickers for WhatsApp? Looking for an app that can easily make stickers and create stickers fast and free? Then this iSticker Maker and Sticker Creator for WhatsApp is definitely what you want!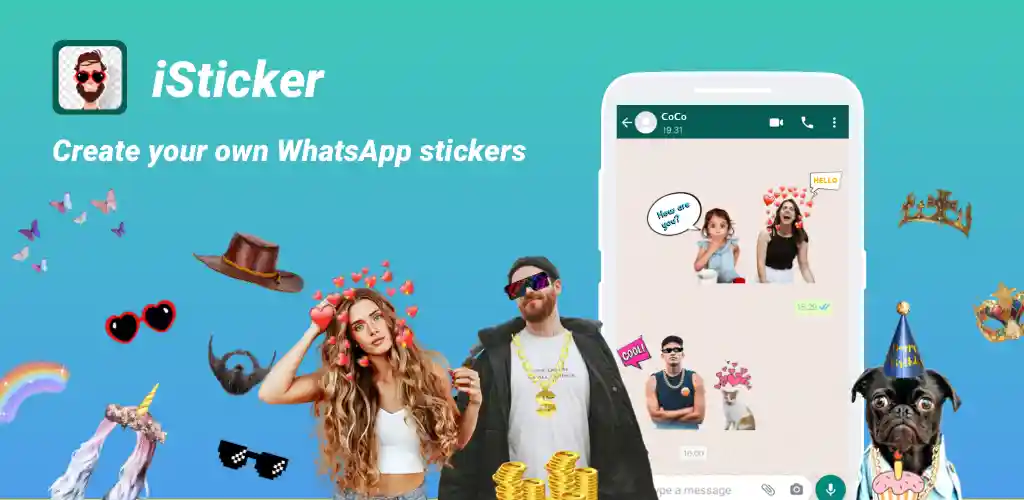 isticker – Meme and Sticker Maker & WAStickerApps is a WhatsApp sticker maker which helps create your own WhatsApp stickers in simple steps. With this sticker app. You can easily make a personal sticker or customize the stickers for your own. This way, you can have a lot of personal stickers to express your emotion easily and have more fun with friends when chatting on WhatsApp.
So please install this iSticker – Meme and Sticker Maker & WAStickerApps and have a try now!
How to use
1️⃣ Choose an image to make a sticker
2️⃣ Add emoji, decorations, text, or drawings as you want to the sticker
3️⃣ Save the sticker you made to the sticker pack and add it to WhatsApp
Done!
iSticker MOD Features
🤠 Free Sticker Maker and Sticker Creator for WhatsApp
🥳 Support both WhatsApp and WhatsApp Business
😎 Make your personal sticker to be more outstanding
🤪 Have fun with your friends with meme sticker maker
✂️ Crop the portrait or object with hand free, circle or square easily
🎩 Lots of Emoji and decorations like hats, glasses, love hearts, etc
🎊 Holiday and birthday decorations to make holiday stickers
💬 Add text to your stickers with customized colors and fonts
🌀 Draw on the stickers
🥰 No limits for the sticker packs, You can make lots of personalized stickers
🤗 Easy to add stickers created to WhatsApp and use them in the chat
Create stickers and make stickers for WhatsApp
iSticker – Meme and Sticker Maker & WAStickerApps is a dedicated sticker maker and sticker creator for WhatsApp. With easy steps, you can make a lot of personalized stickers. It is compatible with WhatsApp and very easy to add the created stickers to WhatsApp.
Make your own stickers
Make your own stickers from your or your friends' photo. More related with yourself and make your stickers more special and outstanding. Make your own emoji to express yourself more easily.
Create meme and funny sticker
Make custom stickers to tell the feeling and stories. Have more fun with friends in chat. Easy to celebrate every happy moment and holiday.
So it is really a good sticker maker and deserves to be installed and try.
Notes
– iSticker – Meme and Sticker Maker & WAStickerApps is not affiliated with WhatsApp. It is a tool to create WhatsApp stickers.
– The stickers are created and owned by users, so the users are responsible for the stickers created. no
Thanks very much for using iSticker – Meme and Sticker Maker & WAStickerApps. Wish you a happy day!
What's new
💡New features when adding text: Callouts
💡Fix bug that cannot be added to WhatsApp
🌟Sticker Maker and Sticker Creator for WhatsApp
🌟Lots of Emoji and Decorations to make your own stickers
🌟Text and drawing supported to customize your stickers
Images