Description
Complement your mobile screen with amazing icons. themed with creativity and soft colors. Lotus Icon Pack is a real masterpiece and was designed to create a perfect and pure stunning look. Lotus Icon Pack has been designed with a Perfect blend of creativity with simplicity enhancing your mobile experience. Lotus has all the essential boxes ticked when it comes to compelling icon design. Give it a spin!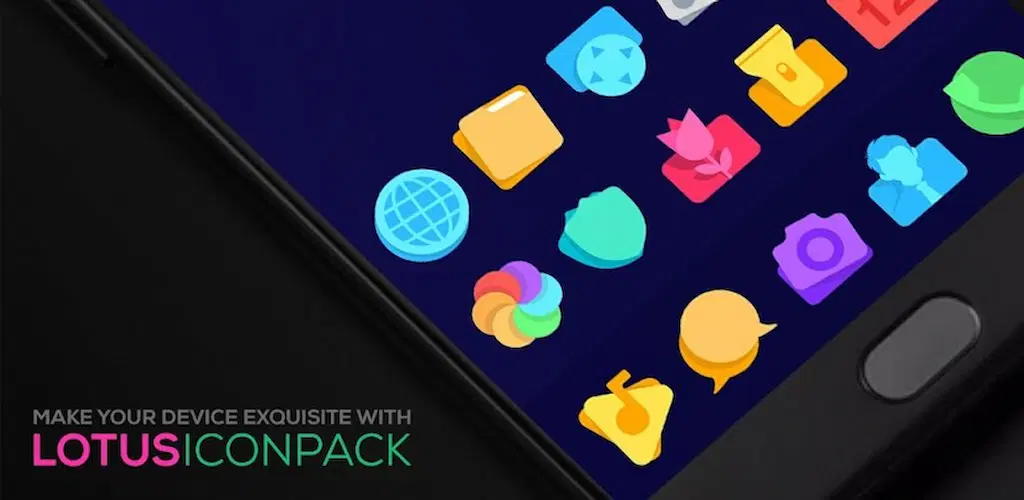 And do you know?
An average user checks their device more than 50 times a day. make each time a real pleasure with this Icon pack. Get the LOTUS ICON PACK Now!
There's always something new:
LOTUS ICON PACK is still new with 3400+ Icons. and I can assure you to add a lot more icons in every update.
FEATURES
• 3400+ Icons (still new and growing with every update)
• Frequent Updates with new icons and Updated activities
• Lots of alternative icons to make customization to the next level.
• Super Amazing collection of walls (more wallpapers will be added)
• Eye-Pleasing Colors and shapes• Icon preview and search.
• Dynamic Calendar support.
• Slick Material Dashboard.
• Custom folder icons
• Category-based Icons Grid
• Custom app drawer icons.
• Easy Icon Request
• FAQ section with search option
Still, Confused?
Undoubtedly, Lotus Icon Pack is an amazing icon pack in the store. so go for it if you are thinking about purchasing it. and we do offer a 100% refund in case you didn't like it.
Support
If you have any issues with using the Icon pack. Just email me at [email protected]
How to use this Icon pack?
Step 1: Install the supported theme Launcher (Recommended NOVA LAUNCHER).
Step 2: Open Lotus Icon Pack and click on Apply.
DISCLAIMER
• A supported launcher is required to use this icon pack!
• FAQ section inside the app which answers a lot of questions you may have. Please read it before you email your question.
Icon Pack Supported Launchers
Action • ADW • Apex •Atom • Aviate • CM • GO • Holo • Holo HD • LG • Lucid • M • Mini • Next • Nougat • Nova (recommended) • Smart • Solo • V • ZenUI • Zero • ABC • Evie
Icon Pack Supported Launchers not Included in Apply Section
Arrow • ASAP •Cobo •Line •Mesh •Peek • Z • Launch • iTop • KK • MN • New • S • Open • Flick
This icon pack has been tested, and it works with these launchers. However, it may also work with others too. In case you do not find an apply section in the dashboard. You can apply an icon pack from a theme setting.
Extra Notes
• Icon pack needs a launcher to work.
• Google Now Launcher does not support any icon packs.
• Missing an Icon? feel free to send me an icon request and I will try to update this pack with your requests.
CREDITS
• Dani Mahardhika for providing such a great dashboard.
What's new
3.1
• 55+ New Icons (Total 3500+)
• Material You Supported Dashboard
• New and Updated Activities
Please take a moment and support further development by giving us a 5star ♥ THANKYOU ♥
2.9
• 50+ New Icons
2.8
• 25+ New Icons
2.7
• 25+ New Icons
2.6
• 25+ New Icons
2.5
• 55+ New Icons
2.4
• 55+ New Icons
2.3
• 210+ New Icons
2.2
• 100+ New Icons
2.1
• 135+ New Icons
1.9
• 110+ New Icons
1.8
• 60+ New Icons
1.7
• 100+ New Icons
..
.
1.1
• 100 New Icons
Images