Developer
SuperGaming
Released on
Jan 15, 2019
Updated
Aug 26, 2023
Size
170M
Version
3.037
Requirements
4.4
Downloads
50,000,000+
Get it on
Mod Info
[ Player Menu ]
-> Unlimited Ammo
-> Rapid Fire
-> Max Range
-> Mass Kill
[ ESP Menu (Enemy/Team)]
-> ESP Lines
-> ESP Boxes
-> ESP Health/Armor
-> ESP Names
-> ESP Distance
Description
MaskGun is a real-time free online multiplayer first-person shooting game built for all mobile devices. Take the challenge, upgrade your characters, invite your friends and play together in an action shooting game with easy controls and auto-shooting.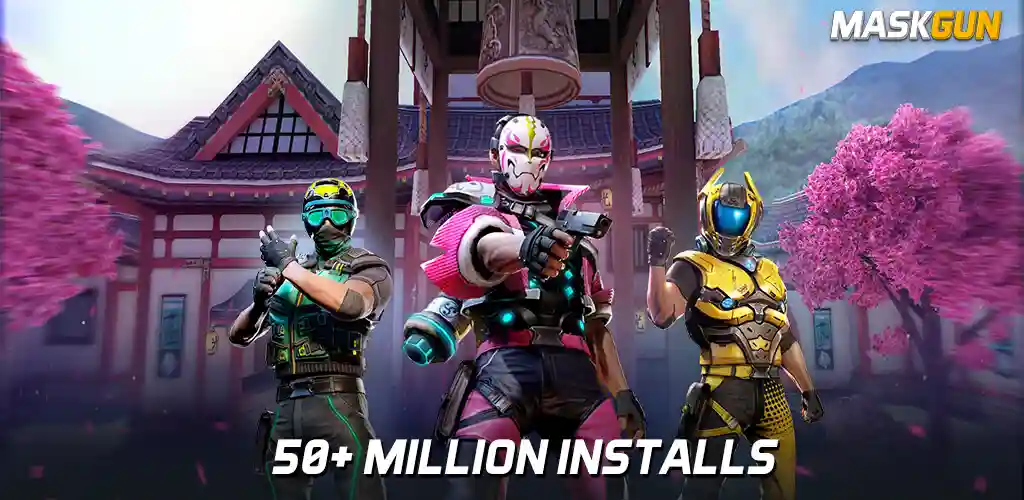 You are in complete control of your character and weapons in this fps shooting game. Go on a rampage, combat with your friends with mad guns and even madder weapons upgrades unique to the modern combat warfare setting. We add new maps all the time, new maps to explore and survive in — it is your call of duty to fight and protect your squad.
In the multiplayer shooting game, you can play tactical 5 vs 5 shooting games such as team deathmatch, Rumble, and Control point.
Multiplayer shooting games explained:
Team Deathmatch: Invite your squad and combat against other teams for a winner takes all team deathmatch. Be tactical and strategic or go on a rampage to reach the kill target before the opponent to win the combat. What guns are you good at? A good team has several roles, be a sniper or run with stealth, use pistols/SMGs or assault rifles, stand your ground when it is your call of duty.
Rumble: A proper 5v5 modern combat multiplayer shooting game for all levels of soldiers, so you can invite and play with your friends to the maskgun and directly start combating together and rank up. In this free fire mode, new players can easily integrate into the easy-to-play PVP multiplayer shooting game with a quick tutorial.
Control point: Capture & control three objectives on the map to earn points. This unique multiplayer shooting game challenges your strategy and adaptation of new tactics to closely win the game or dominate. Be tactical and combat enemies to control 3 objectives to dominate your opponent soldiers – the first team to gain 300 points wins.
MOD mode: In this unique multiplayer shooting game mode, you get to play all the above-mentioned PVP games- 5v5 Team deathmatch, Rumble, and Control point with a unique set of rules:
– Each soldier in both teams is equally equipped with the same weapon, health, and armor.
– Each type of weapon is equipped with unique abilities. For example, an AR can act like a grenade launcher or automatically kill soldiers close to you.
Enjoy the free & immersive PVP shooting game with features such as:
► Simple and Easy to Learn Controls: Get started quickly with auto-shooting.
► Over 40 Modern Combat Guns: Choose your own shooting tactics for battle: sniper, shotgun, machine gun, or assault rifles
► Nine Maps including Yard, Ryokan, Downtown, Airport, Courtyard, Mayan, Blizzard, Favela, and LightHouse
► Real-Time Friends System: Recruit friends and play with them when they are online in a multiplayer mode
► Missions and Achievements: Complete missions and achievements to Level Up and Unlock content. Get VIP to boost rewards and progression
► Player Gear Customization: Customize your character using a variety of equipment, masks, armor, and gear. Use a weapon loadout suitable to your play style.
► Beautiful Graphics and Supports All Older Devices: Enjoy beautiful visuals on-screen on even older hardware.
► Free to Play: Play as much as you want, no energy system
► Updated Regularly: New Content, Modes & Maps are being added every month to ensure endless PvP action!
► Global Clan Competitions: Participate in Clan Events with players worldwide. Can your clan dominate and be competitive with globally playing clans?
Images