Developer
GunjanApps Studios
Updated
May 10, 2023
Size
12M
Version
15.7
Requirements
4.4
Downloads
50,000,000+
Get it on
Mod Info
● Ad Free Unlock.
● Free Hint Unlock.
● A Skip Profile Setup.
● Ads Related Activity & Code Removed / Disabled.
● Ads Related Layouts Visibility Gone.
● Analytics / Crashlytics Removed / Disabled.
Description
A free math games for kids and adults. A math practice game for training your brain for all ages including kids, girls, boys, and adults including parents and grandparents. Math for Kids is the smallest math app on Google Play! The most straightforward multiplication and division game with addition and subtraction games in one app. Boost your brain power with great educational math learning games for kids and adults of all ages. With extra math for 1st, 2nd, 3rd, 4th, 5th, or 6th graders and of course, teens or adults interested in training their brains and improving their math skills Free math games! Learn math games, addition, subtraction, multiplication, and division.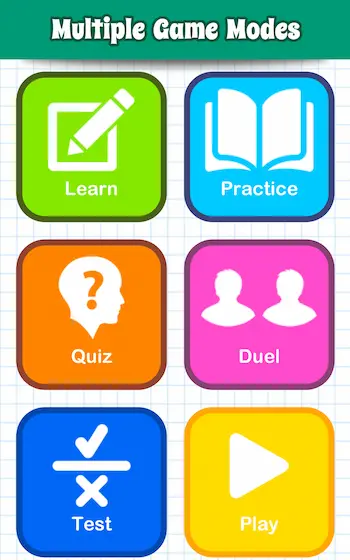 Math Games Languages: English, Spanish, German, Italian, Portuguese, French, Russian, Indonesian, Malay, Vietnamese, Japanese, Korean, Hindi, Bengali & Ukrainian
Features
– Addition games: Adding numbers with Quiz and Practice games
– Subtraction games: Subtracting numbers to solve the equations
– Multiplication games: Multiplication tables learning and duel play mode
– Division games: Practice and learn Division tables in the new Math app
– Exponential and square root: counting math puzzles for kids and adults
– Fractions: Basic arithmetic to fraction addition, subtraction & multiplication for kids and adults
– Dual Mode: Split-screen interface for two players with endless math worksheets
– Multiply number game: children learn math skills and multiplication tables
– Cool Maths games, math puzzles, brain teasers, and brain math puzzles all in one
– Maths Times Tables along with Fun adding, subtracting, multiplying, and dividing
– Math classic 15 Puzzle, Sudoku, and more math exercises for brain
– NEW Online Multiplayer math game
Each category has different game modes to improve your math skills – play, learn, quiz, practice, duel, and test. Math games for kids can be both educational learning for kids and brain-training apps for adults. A basic and simple math game involving addition, subtraction, multiplication, and division with colorful worksheets. Each worksheet will display a score when completed.
Mathematical calculations to play and practice simple addition, subtraction, multiplication, and division. Download and play free math games on your Android today! Improve your math skills or learn how to count numbers. The game is so simple and easy that even young children can play it. Math Games – Addition, Subtraction, Multiplication, and Division can also be called Extra Math.
A fun multiplication and subtraction game designed for all smartphones and tablets. No internet connection is required. Includes multiplication and division. With this learning app, parents, teachers, and educators can help their children learn faster. This math genius game is a fun game designed mainly around the theme of addition, subtraction, multiplication, and division. Play cool math games to challenge your friends and have more math fun. We are constantly adding new math games for 1st, 2nd, 3rd, 4th and 5th graders.
Conclusion
Download the Quick Brain Mathematics game from Google Play now and share this fantastic game to practice math games and brain exercises. Learn Addition, Subtraction, Multiplication, and Division on your Android today for FREE!
What's new
- Total 80+ mini games of mathematics in one app
- Updated Note page for rough calculation
- Updated new games
- Updated levels in Math Equations and other math games
- Updated Times tables & Multiplication tables
- Updated Easy math games for kids
- Updated new SDKs and Android 13 compatible
- Crashes, Bug Fixes and UI Enhancements
Images