Network Tools: WiFi Analyzer, IP Utilities app is a combination of tools to help you to understand your network's configuration, WiFi states, any potential issues, the availability of the network and its performance.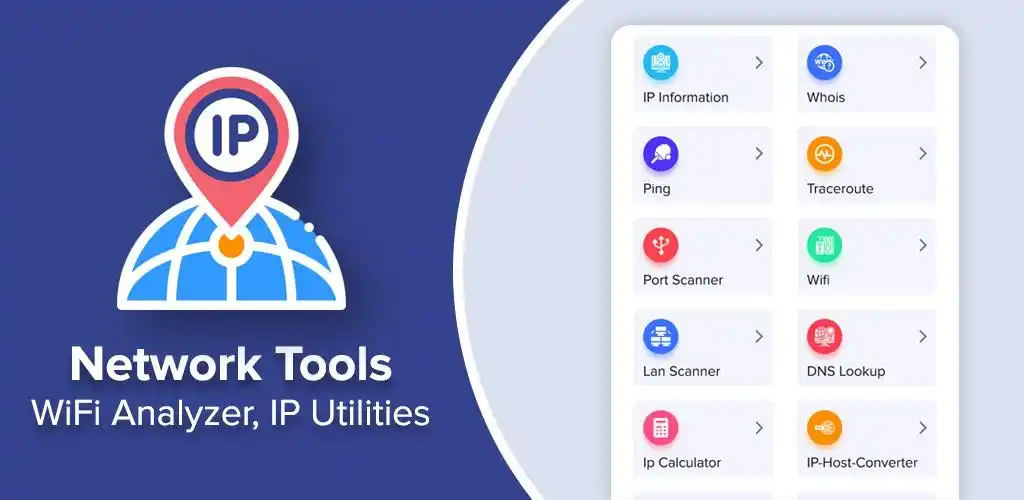 • IPInfo: Network Summary, Wireless network type, status, name and IP address
• Ping – TCP and HTTP ping, Shows how long it takes for packets to reach host.
• Traceroute – discover all intermediate hops that packets pass on their way to their destination.
• Port scanner – TCP ports scanner, you can know which ports are open on the host.
• Whois lookup – view DNS records for a given domain/hostname
• Wi-Fi scanner – available wifi connections, WiFi band, Signal strength, Security and SSID
• DNS Lookup – reverse lookup & just type in a numeric address
• IP Calculator – subnet/IP address calculator for setting up routers and addresses on IP networks
• Wifi signal meter can view your current WiFi signal strength and detect WiFi Signal Strength around you in real time.
Very useful features of Network Tools: WiFi Analyzer, IP Utilities app:
– Ultimate tool for network analysis, wifi scanning and problem detection
– Network Summary: Wireless network type, status, name and IP address
– Full information about your network, find out internal or external IP
– Ping scanner : statistics on average host response time
– Port check: finds open ports and available services
– WiFi analyzer : detail information about wifi networks & connected devices
– Identify nearby WiFi Access Points & channels signal strength
– Configure your WiFi Router Settings setup page, 192.168.0.1 on router setup page
*WiFi Analyzer offers very useful functions for WiFI analysis such as Access points, channel rating, channel graph, WiFi strength and recommends the best available wifi channels.
– Supports 2.4GHz/5GHz and WiFi Channel Optimizer
– Provides you information individually on wifi channels
– WiFi Analyzer tool shows signal strength in history graph