Mod Info
PRO features unlocked
Unwanted files removed
Debug Info Removed
Description
PDF Converter by Offiwiz is a document converter that allows you to convert files to other extensions: for example, you can convert PDF to Word, TXT, PPT, DOC, JPG, PNG, XLS, and many more. This PDF Converter app is also a PDF Reader and a PDF Editor. Choose the extension, choose an output format and convert any document, perfect for creating PowerPoint presentations and PDF works.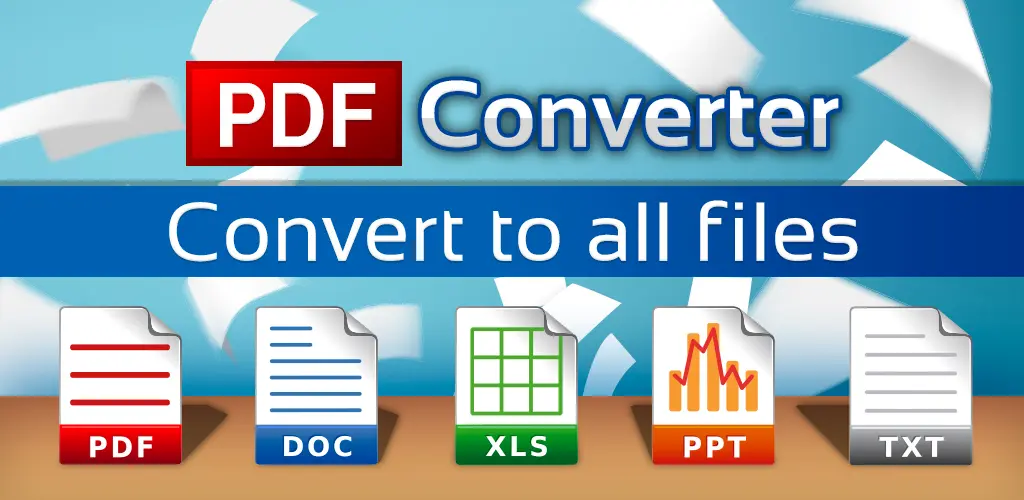 PDF Converter (doc ppt xls txt word png jpg wps..)
PDF Converter makes the following conversions
Word to PDF, Word to TXT, PowerPoint to PDF, PPT to TXT, PDF to Doc, PDF to PowerPoint, PDF to XLS, PDF to TXT, XLS to PDF, XLS to TXT, TXT to PDF, TXT to Word, JPG To PDF, JPG to PNG, JPG to PPT, PNG to PDF, PNG to PPT, PNG to JPG, PDF to JPG, PDF to PNG PPT to JPG, PPT to PNG
PDF Reader, PDF Creator, and PDF Editor
Use the built-in PDF Reader document viewer or any other document viewer you already have installed. Modify your files with the connection to Scanner App and its PDF editor. Creating PDFs to your measure and sharing them in the format that you want, is now a reality.
Document scanner
Scan documents with the help of the Camera Scanner App, which connects directly to the document converter, shares your files from the scanner and converts them to any format.
Text recognition and document translator
Use the direct function to share your documents with the Camera Translator Scanner application, in this way you can recognize the text of the documents or translate the text to any language in the world. More than 100 languages ​​are compatible with the translator function.
Ideal for working
It scans, copies translates and converts any photo from the camera, or image from the gallery, table, or graph of Excel. It also modifies and converts your photos and changes the extension to the desired format, sending the finished documents directly from the file converter.
Share your files with other tools and applications
Share the documents you've converted with any other messaging, mail, or social network application. Link your works with Camera Scanner and Camera Translator and finish completing the application with the best tools.
Resource Optimization
Optimization of the application allows you to save battery and resources during the process of converting documents into different formats. Make conversions in the background and receive notifications when the conversion is complete.
Supported formats
PDF Converter can work with the following formats: PDF, DOC, TXT, PPT, XLS, PNG, JPG, DOCX, PPTX, XLSX
Conclusion
With the PDF Editor feature, you can edit the paged of the PDF you previously converted from a doc file or any file. The process of converting documents to other formats, creating PDF files, transforming files, and making new documents in other formats is easy and fast. Convert several kinds of files, convert DOC to PDF, convert PDF to Word, PDF to JPG, JPG to PDF and more combinations are possible thanks to this PDF Converter, file converter, and image converter. Finish your office jobs with fast conversions
What's new
- Minor bugs fixed
- Now PDF Converter is faster than ever
- New formats: HEIC , AZW3 , EPUB , MOBI
Thanks for using PDF Converter! We publish updates regularly on Google Play with speed and reliability improvements to make our app better every day.
Images