Description
Player Dreams  Free audio player with a tag editor, search for cover, lyrics, automatic saving pauses all files, on shutdown timer, radio, with scrobbling, light and dark theme, and much more.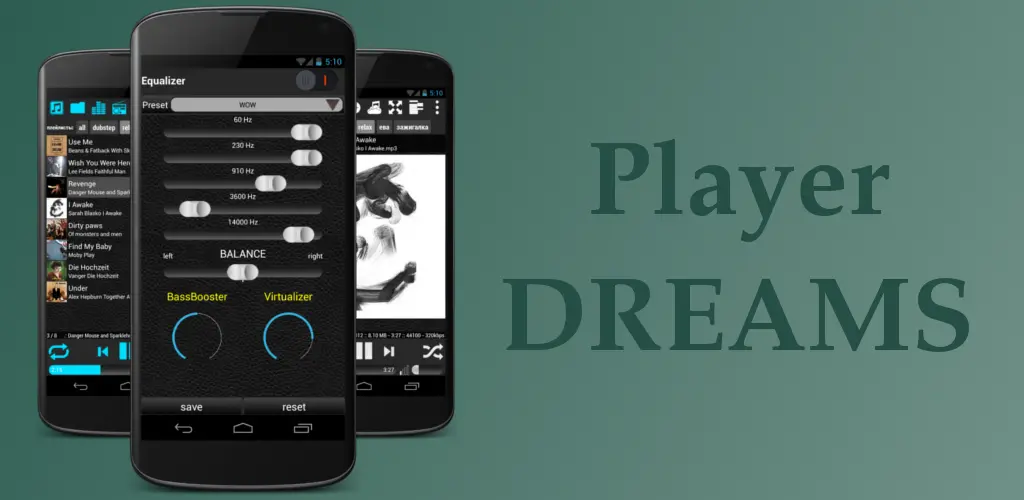 Widgets (you can resize): 2X1 2X2 4X1 4X2 4X4
4X2 and 4X4 can be put on the lock screen Android 4.2 +
Why did you choose this player?
– It's free.
– You store a pause in any file.
– The player knows where he was stopped.
– A lot of widgets.
– There are previewed.
– There is a sleep timer.
– The ability to search for skins on the Internet.
– There is an equalizer.
– Ability to save playlists.
– Pause button during a call.
– Pause at the time of speech recognition.
– Ability to toggle songs with the volume keys.
– Ability to start playing when the headset.
– There is internet radio.
– Support for Cyrillic.
– Ability to customize the headset button.
– Tag editor.
– Support for M3U.
– Translation for the lyrics.
– There is visualization.
– Auto Pause saving the files longer than 15 minutes.
– There is a slide show of all pictures to the music.
– Ability to split files.
– Support for cloud storage Yandex.Disk.
– There is a synchronization device on Android.
Currently supports the following formats:
.mp3 .ogg .3gp .wav .mp4 .m4a .mid .xmf .mxmf.rtttl .rtx .ts .aac .flac .mkv
What's new
Fixed a problem with installing ringtones.
Fixed a problem with the visibility of files on some devices.
Ability to remove system radio stations.
New off timer.
Ability to use any webdav cloud.
Predefined settings for webdav yandex, mail and 4shared.
Many minor fixes and improvements.
Images