The Reminder Pro By made easy is a simple but versatile productivity tool to organize your life! From using it as a med reminder, important week reminder, pill reminder alarm, appointment reminder, deadline reminder, meal reminder, and recurring reminder, you can truly benefit from adding Reminders in your daily life.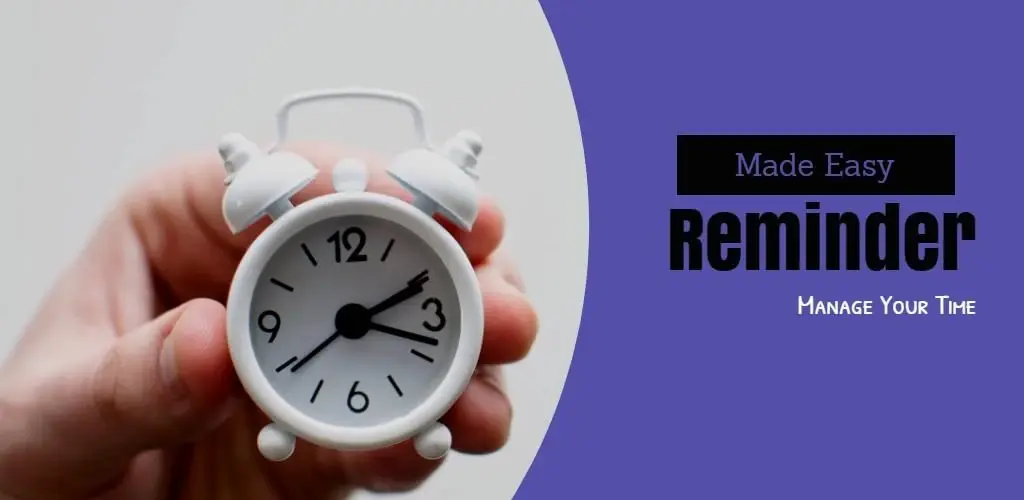 CHECK OUT HOW THOUSANDS OF USERS ARE ALREADY USING REMINDERS:
★ Deadline Notification
Stay on track with school, work, or personal deadlines by entering them into the do Reminder
app.
★ Homework and Assignments
Create a pop-up reminder for when homework or other school assignments are due.
★ Meetings
Work schedules can get busy. Set reminders for all your meetings each week and sit back
and let Reminder notify you when you need to attend.
★ Daily Tasks
All those daily tasks can stack up. Assign a date and time to all your tasks and be on your
way to organizing your life! Also, use it as a recurring task reminder to never forget to do those routine tasks that improve your life such as water consumption.
★ Birthdays
It can be difficult to remember all the birthdays of your friends and family members. With
doing Reminder you can set a deadline notification for each birthday so you never forget to say happy birthday.
★ Anniversaries
Use Reminder to notify you of that special date. You can even add remember me notes for plans, dinner
reservations or gift ideas
★ Errands
Set up a schedule to take care of all your errands with ease using our task reminder with alarm. Set date, time, and detailed
notes so you can remember to do all the errands on your to-do list.
★ Important Calls
The reminder can also be your day planner with reminders. Add a reminder alarm so you don't forget that important call or plan multiple calls during the day and add notes to your reminder like
names, phone numbers, etc.
★ Paying Bills
Never get charged a late fee again! Use our list reminder to set an alarm to remind you to pay a bill.
★ Taking Medication
Set a daily reminder to take your medication and use Reminder as your pill reminder. Set it once and you'll never have to remember again!
★ Event planner
Plan your events with our to-do reminder.
★ And so much more!
OTHER GREAT FEATURES AVAILABLE:
★ Custom recurring reminders
★ Popup Notifications
★ Snooze option
★ Widget
★ Daily summary reminder
★ Quiet hours settings for hourly reminders
★ Advance reminders
★ Multiple Themes
★ Search functionality
★ Auto Backup / Manual Backup
★ Categories with different colors and settings
★ Standard, Compact, and monthly grouping view options for a list of reminders.
Now it's time to remind yourself of doing the important task in your life.