Ringtone Maker Pro is free app creates ringtone, alarms, and notifications from MP3, WAV,AAC/MP4, 3GPP/AMR files. You can set the start and ending notes by sliding arrows along the timeline, by pressing Start and End to record the point, or by typing in time stamps.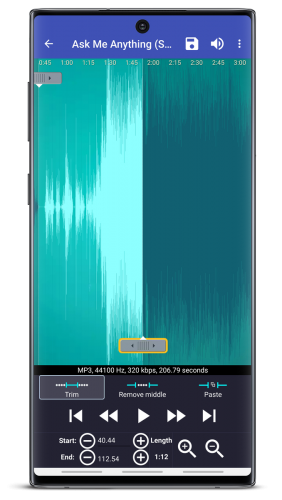 Ringtone Maker Pro Features:
Copy, cut and paste.
Fade in/out for mp3.
Adjust volume for mp3.
Preview the Ringtone files and assign to contact.
View a scrollable waveform representation of the audio file at 5 zoom levels.
Set starting and ending points for a clip within the audio file, using an optional touch interface.
Play the selected portion of the audio, including an indicator cursor and auto scrolling of the waveform.
Play anywhere else by tapping the screen.
Save the clipped audio as a new audio file and mark it as Music, Ringtone, Alarm, or Notification.
Record a new audio clip to edit.
Delete audio (with confirmation alert).
Assign a Ringtone directly to a contact, you can also re-assign or delete the Ringtone from contact.
Sort by Tracks, Albums, Artists.
Manage contact Ringtone.