Find your sleep secrets with Sleep Monitor! Sleep Monitor helps you track and record sleep cycle details. Sleep Monitor also has a smart alarm clock to remind you to sleep early at night and wake you up gently in the morning. In addition, Sleep Monitor provides relaxing and soothing sleep music to help you sleep better.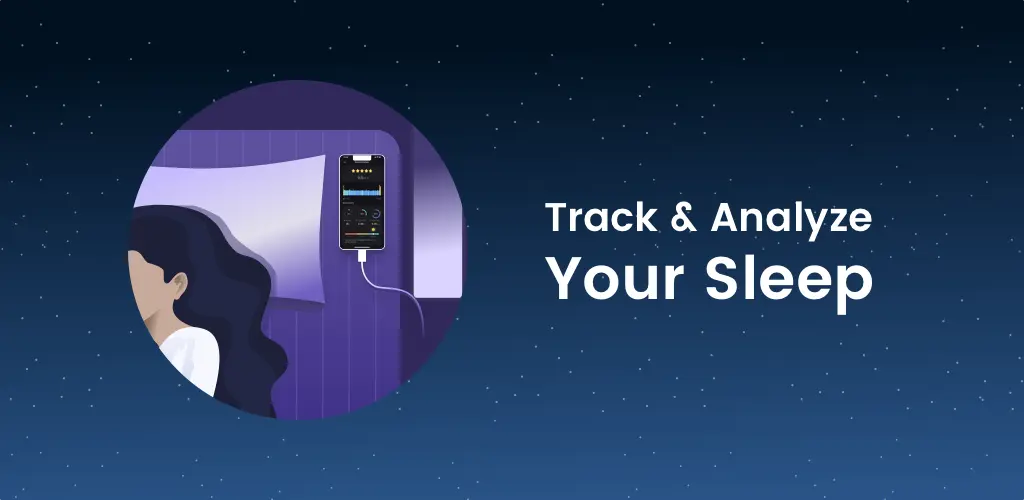 Download Also: Alarmy (Sleep If U Can) [Pro] [Mod]
Install Sleep Monitor to:
✍ – New Feature: Write Sleep Notes
Take brief notes for your sleep. Write down anything you want so you will never forget about them.
🎙- Record Snoring or Dream Talking
Sleep Monitor will record snoring and grinding sounds made during your sleep, listen to them, and find out more about your sleep the next morning! For fun!
💤- Mark Your Sleep Habits
If you drink, eat, exercise, or have any pathological condition or depressed emotions before sleep, see how these slumber habits can impact your sleep.
📲- Track Your Sleep Phases
Sleepers will have 4 or 5 sleep cycles during the night. Usually, sleepers will pass four sleep stages in one sleep cycle: Non-REM 1(between waking and sleep), Non-REM 2(light sleep), Non-REM 3(deep sleep), and REM (Rapid Eye Movement, when most dreaming happens) sleep. These stages progress cyclically from 1 through REM and then begin again with stage 1. A complete sleep cycle takes an average of 90 to 110 minutes, with each stage lasting between 5 to 25 minutes.
Sleep Monitor uses both microphone and accelerator sensors to measure body movements and environmental noise changes and then recognize your sleep stages.
📈- Get Your Sleep Sore
Sleep Monitor will generate useful information for you after tracking, like sleep score, sleep cycle graphic, sleep statistics, and sleep noise audios. Get your daily, weekly, or monthly sleep insights and use those data to help you sleep better. Sleep Monitor is especially helpful for those who want a way to check how their sleep is, and do not want to invest in an accessory like a smart band or smartwatch.
⏰ – Set Smart Alarm Clock
Set an alarm for your morning wake-up or nap or set a reminder for bedtime.
🎵- Listen to Relaxing & Soothing Music
Suffering from insomnia? Listen to high-quality relaxing music to calm a racing mind before sleep. Fall asleep quickly with different kinds of sleep sounds.
👩‍❤️‍💋‍👩Sleep Monitor Target Group
– People who are suffering from insomnia, a sleep disorder that is characterized by difficulty falling and/or staying asleep.
– People who want to do self-diagnosis whether there are signs of poor sleep quality like sleep disorder, sleep disruption or sleep deprivation.
– People who care about sleep quality
📲App Working Requirements
√ Place your Android phone near your pillow or bed
√ Sleep alone to eliminate interference
√ Make sure the battery is enough
🔐 Upgrade to Sleep Monitor Pro to Enjoy ALL Advanced Features
√ Download sleep noise audio files
√ Unlock all sleep music
√ Save 30 and backup all sleep records
√ Unlock sleep notes
√ No ads