Developer
MaxDev Studio
Updated
May 13, 2023
Size
10M
Version
1.1.9
Requirements
4.4
Downloads
1,000,000+
Get it on
Description
Smart Charging MOD APK is an application that helps you save battery and optimize battery charging time, helping to increase battery life.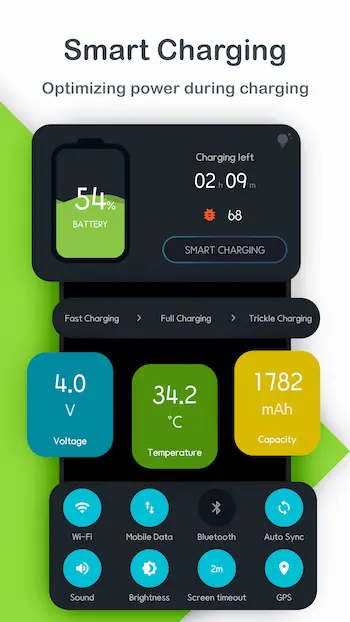 How does Smart Charging work?
With Smart Charging, you can easily apply the charging mode with just 1 touch. The app also finds and pauses apps running in the background that are draining your battery. This can help improve charging time, saving you time.
When you plug in the charger, you just need to press the "Smart Charging" button to activate it. The application will find and pause the applications running in the background causing battery drain. The application also turns off battery-draining services and connections such as
Wifi, Bluetooth, Auto Sync. Reduce screen brightness, Let your screen turn off sooner, and Turn off keyboard sounds or vibrations… according to the user's favorite settings.
When you want to stop the charging mode, you just need to click the "Stop" button. The settings will be restored to the way they were before.
Charge Alarm
The app will remind you when the battery is fully charged. With many options for sound reminders and vibration alerts. This feature will help you avoid letting the battery charge for too long, thereby better protecting the battery
The Highlights Features
– Beautiful Flat design, easy to use.
– Shows the battery info such as temperature, voltage, and Capacity.
– Auto-kill background apps when the screen is off.
– Monitor the charging process.
– Show battery charge history.
What's new
- Update for Android 13
- Bug fixes and code optimization
- Neu funtion: Junk File Cleaner, App Manager, Battery Monitor...
Images