Developer
LineCentury Inc.
Updated
Aug 24, 2023
Size
6.7M
Version
1.3.0
Requirements
5.0
Downloads
100,000+
Get it on
Description
StockMarketSim is a simple, easy, and fun virtual stock market game. You start with $10,000 and can place unlimited trades, any time of the day. The beautiful design and easy trading flow help users learn the stock market, monitor their stocks, and test various trading strategies.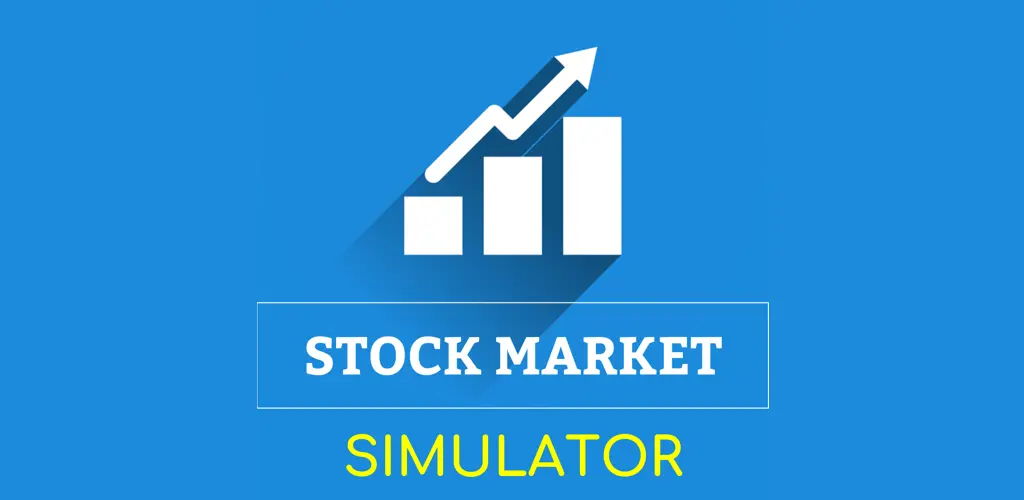 Here's the list of main features in StockMarketSim:
– Over 100,000 symbols to trade: support 30+ countries, including US, India, Canada, Australia, UK, Germany, etc.
– Unlimited trading
– Beautiful design
– Livestock quotes and historical data
– Easy portfolio monitoring
– Livestock charts with hundreds of technical indicators & overlay to perform technical analysis
– Breaking news for each stock and market
Currently, we support stocks from the following exchanges:
– United States: Dow Jones, NYSE, NASDAQ, OTC, S&P 500 & AMEX
– Australia: ASX 200, ASX 50 & NZX 50
– United Kingdom: FTSE 100, FTSE All
– Canada: Toronto TSX, TSXV
– India: SENSEX, NSE, BSE
– Argentina: Buenos Aires Stock Exchange (BYMA)
– Austria: Vienna Stock Exchange
– Belgium: Euronext Brussels
– Brazil: Sao Paolo Stock Exchange (BOVESPA)
– Chile: Santiago Stock Exchange
– China: Shanghai & Shenzhen Stock Exchange
– Czech Republic: Prague Stock Exchange Index
– Denmark: Nasdaq OMX Copenhagen
– Egypt: Egyptian Exchange Index (EGID)
– Estonia: Nasdaq OMX Tallinn
– Finland: Nasdaq OMX Helsinki
– France: Euronext, Euronext Paris
– Germany: Berlin, Bremen, Dusseldorf, Frankfurt, Hamburg, Hanover, Munich, Stuttgart Stock Exchanges & Deutsche Boerse XETRA
– Greece: Athens Stock Exchange (ATHEX)
– Hong Kong: Hong Kong Stock Exchange (HKEX)
– Iceland: Nasdaq OMX Iceland
– Indonesia: Indonesia Stock Exchange (IDX)
– Ireland: Irish Stock Exchange
– Israel: Tel Aviv Stock Exchange
– Italy: EuroTLX & Italian Stock Exchange
– Japan: Nikkei Indices & Tokyo Stock Exchange
– Malaysia: Malaysian Stock Exchange
– Mexico: Mexico Stock Exchange (BMV)
– Netherlands: Euronext Amsterdam
– New Zealand Stock Exchange (NZX)
– Norway: Oslo Stock Exchange
– Portugal: Euronext Lisbon
– Qatar Stock Exchange
– Russia: Moscow Exchange (MOEX)
– Singapore Stock Exchange (SGX)
– Korea Stock Exchange & KOSDAQ
– Spain: Barcelona & Madrid Stock Exchange
– Sweden: Nasdaq OMX Stockholm
– Switzerland: Swiss Exchange (SIX)
– Thailand: Stock Exchange of Thailand (SET)
– Turkey: Borsa Istanbul
And 10 more stock exchanges
This stock marketsim can be used as a stock market tracker, a stock trainer & the best brokers because you have the real-time stock quotes for 100,000+ stocks from major stock market exchanges.
Disclaimer: StockMarketSim is only a useful tool for virtual trading. This app is not responsible for profits, revenues, or data and financial losses. This app also does not provide any financial advice.
What's new
- The issue of missing prices and statistical data has been resolved.
- Fixed bugs and improved performance
Images