Developer
Super Launcher Serie
Released on
Sep 4, 2019
Updated
Nov 12, 2023
Size
20M
Version
5.1
Requirements
4.0
Downloads
1,000,000+
Get it on
MOD INFO
๏ Prime Features Unlocked
๏ AOSP Compatible (No Google)
๏ Multi Languages
๏ CPUs: armeabi-v7a, arm64-v8a
๏ Debug Info Removed
Description
Super S10 Launcher is Galaxy S10, S10+, and S10e style launcher, providing you latest Galaxy S10 launcher experience; an Easy, modern, powerful launcher! S10 Launcher is built based on the well-known high-quality Super S9 Launcher which is liked by many users, and what is more, this launcher is an upgraded version of the Super S9 launcher. S10 Launcher is available for ALL Android 4.1+ devices!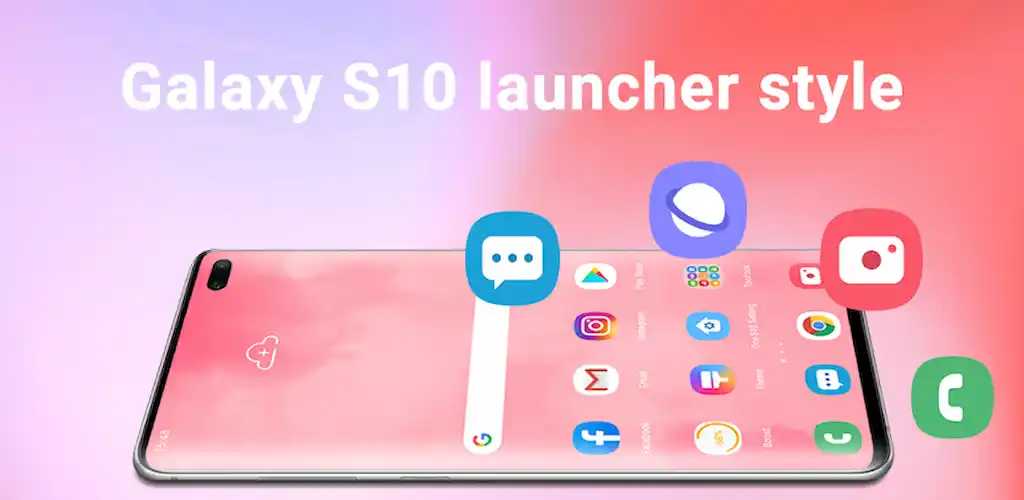 Download Also: Weather & Widget – Weawow [Unlocked]
✔ Who will get value from Super S10 Launcher?
1. For Users who have old Galaxy S, Galaxy J, Galaxy A, etc phones and want to use the latest Galaxy S10 launcher experience, this launcher will make your phone look like a modern Galaxy S10 phone.
2. Users who own all other Android 4.1+ devices and want to use the latest modern Galaxy S10 one UI launcher experience.
✔ Notice:
1. Android™ is a registered trademark of Google, Inc.
2. Samsung™ is a registered trademark of Samsung Electronics Co., Ltd.
This is NOT an official Samsung TouchWiz launcher, Samsung One UI launcher, or Samsung Experience launcher product.
✔ Super S10 Launcher main features:
* Built-in Galaxy S10 launcher theme, and all app icons are unified to Galaxy S10's icon shape, nice-looking
* There are many cool launcher themes in the Super S10 Launcher theme store
* Super Galaxy S10 launcher also supports almost all third-party launchers icon pack which are published in the Play Store
* You get a Galaxy S10 style launcher drawer, there are horizontal styles or vertical styles for your choice
* You can sort all apps by A-Z, by latest installed first, by most used, or by customized sorting
* You have handy tools in the launcher sidebar: Booster, Cleaner, Torch, Battery Saver, App Manager, etc
* Various gestures action support: swipe up/down, pinch in/out, two fingers gestures, dock icon gestures, let you operate launcher handily
* Many built-in widgets: analog/digital clock widget, freestyle widget, weather widget, photo frame widget, etc
* Super S10 Launcher has notification badges for a missed call, unread messages and all apps
* Super S10 Launcher support lock desktop layout to avoid s10 launcher desktop being messed up by kids
* Super S10 Launcher has a rounded corner screen feature, making your phone's screen look like Galaxy S10
* You can hide the app and lock the app from the launcher, protect your privacy
* You have many options to customize the launcher: launcher grid size, icon size, color, font, etc
* You have A-Z little bar in launcher all apps drawer for app quick location/finding
* Super S10 Launcher support multi dock pages, changing dock background
* Many online beautiful wallpapers, galaxy s10 wallpapers
* Various launcher desktop transition effect
* There are four folder styles: normal folder, super folder, private folder, most used folder
* Super S10 Launcher support create a folder in launcher drawer
* Super S10 Launcher support auto classify apps to luncher desktop folders
* Super S10 Launcher has a T9 search feature
✔ Some permission explanation:
1. Read Sms, Read contacts, Read call log: Needed by unread Sms counter and missed call counter feature
2. Read content provider: Needed by unread Gmail counter feature
3. Camera permission: Needed by sidebar -> camera and flashlight feature
✔ If you like this S10 Launcher(Galaxy S10 launcher style), please rate us and leave comments, thanks a lot for your support!
What's new
v5.1
1. Upgrade to support bidding
Images