Developer
Wil Corp. Software
Updated
Aug 21, 2023
Size
1,001k
Version
8.3.5
Requirements
4.4
Downloads
10,000+
Get it on
Description
Weigh-In Deluxe Weight Tracker – Track your WEIGHT and set your goal whether it be LOSS or GAIN. Look your Best for Summer and Set your goal and track your weight easily !Keep track of your BODY MEASUREMENTS, BMI, BFI !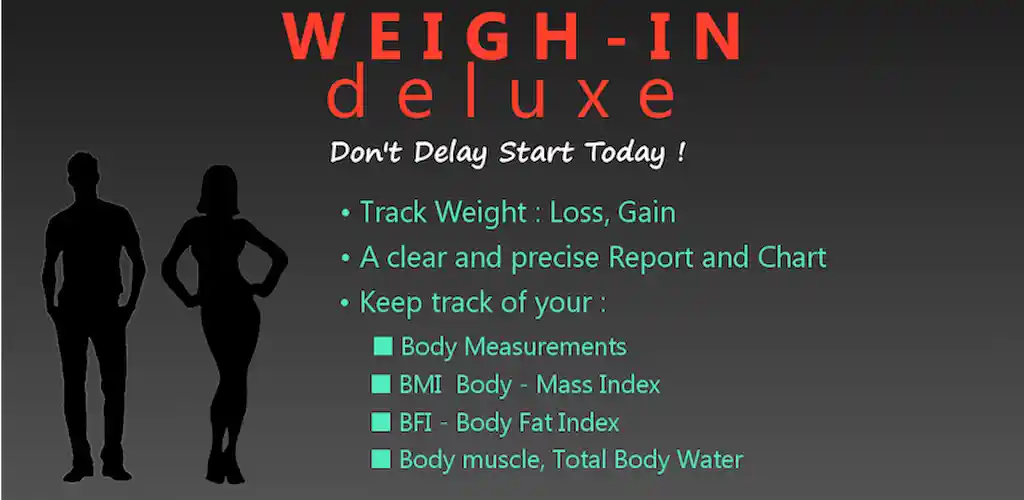 ♦♦♦ This app will Help to Boost your Motivation to Lose or gain Weight ♦♦♦
DON'T DELAY, START TODAY !
• user-friendly interface, configurable background colour gradient.
• Widget.
• configurable : Kilograms/Pounds/Stones, Cm/Ft, sex
• configurable : display date format.
• Starting goal and goal date configurable.
• Track your BMI – Body Mass Index.
• Track your BFI – Body Fat Index – (optional, manual input possible)
• Track your measurements (Optional) : calves, thighs, hips, waist, chest, biceps, forearms, other.
• Enter your own notes.
• Ideal weight calculation.
• Automatically calculates your chances of success in percent.
• Automatically calculates your BFI, BMI.
• Export and Import (.csv) (save and send by email).
• Save or share your reports and charts by email, Facebook, twitter, …
• A clear and precise Report and Chart to view your weight progress (total progress, BMI, BFI, …) : daily, weekly, monthly, …
• A synthesis (Table->Menu) enabling you to visualize all details concerning your change in weight to help you reach your goal.
• Can be installed to SD card (Android 2.2 or higher only).
• Widget : the app must be installed on your phone and not your sd card – restriction due to Android
• Tip : Help is available on every screen (press menu and help)
• Compatible android 3.x
• Compatible android 2.3.3 Tab.
What's new
- Android version Update.
Images