World Around Me is the perfect tool for travelers, tourists, or locals who want to know everything about their surroundings. Just point your phone at you to discover places and feel at home anywhere in the world! World Around Me takes you on an exciting journey to the places around you. The Pro version has higher-quality photos of places to discover and is completely ad-free!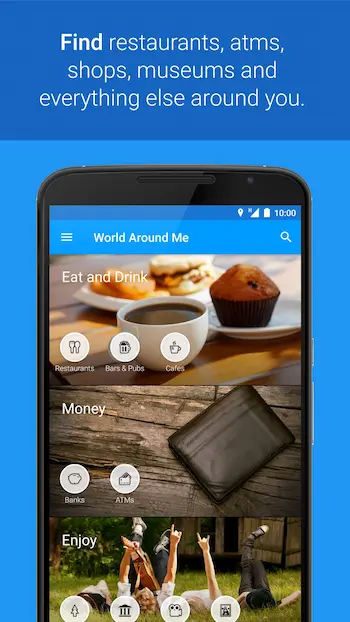 World Around Me is recommended by:
* BBC Click
* National Geographic Traveler – Rated as a top traveler app
* The Guardian
Point the phone around you to start getting all kinds of useful information!
Here are just some of the places that World Around Me will identify, locate and show reviews for:
– Restaurants | Bars | Cafes
– Banks | ATMs
– Movie Theaters
– Museums | Art Galleries
– Parks
– Gas Stations
– Subway Stations | Train Stations | Bus Stops | Taxi Stands | Airports
– Hospitals | Dental Clinics
– Pharmacies
– Gyms | Spas
– Hotels
– Shopping malls | Grocers | Clothing Stores
– Book Stores | Shoe Stores
– Churches | Mosques | Synagogues | Temples
World Around Me combines cutting-edge augmented reality technology with a seamless, fluid interface that adds useful and exciting information to all the places around you. It is a new perspective (city lens), for you to explore places around you.
With World Around Me, you can:
1. Search for 9 main categories of places and 31 subcategories with just one tap.
2. Find all kinds of places around you using keyword search.
3. Get super useful info such as WiFi availability, accepts credit cards, take reservations, and have outdoor seating.
4. Check out user reviews, directions, phone numbers, opening hours, price tier, photos, and more.
5. Choose between AR, list, and map views to navigate.
6. Rank places around you by distance or importance.
7. Get the real-time distance to a point of interest. WAM tells you how near you are to a place even as you make your way toward it.
8. Search and Book Hotels around you. Get super useful information such as room rates, features, availability, rating, a review summary, star rating, and description.
People in over 200 countries are using World Around Me! Are you?