Developer
Yahoo
Updated
Jul 5, 2023
Size
30M
Version
9.32.1
Requirements
Varies with device
Downloads
10,000,000+
Get it on
Mod Info
Ads patched/disabled
Run at startup removed
Ad permissions disabled
Arm7 supports all devices
Adaptive AndroidTV support
Receive cloud data removed
Google play billing removed
Advertising ID permission removed
Added New Custom Adaptive Logo/Banner
Allow app to access all accounts on device removed
Take pics/video with camera without consent removed
Will install directly to home screen apps on OnnBox/Firestick/AndroidTV
*Firestick users need to launch 1 time to show under recently opened apps on home screen
*Included Yahoo Mod for 3rd Party Launchers that may display banner differently
Description
Watch live sports, including NFL & NBA games on Yahoo Sports. Get sports news, scores, and live results, and updates so you don't miss a second of the action.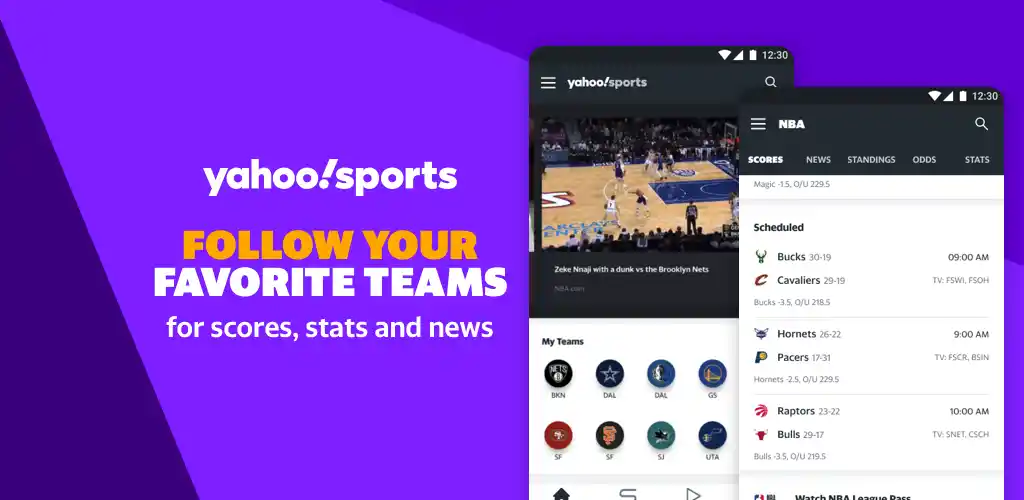 Watch live NBA games on your phone or computer with NBA League Pass free preview windows. And get scores and live results from all the sports you love – baseball, basketball, football, college, and much more, whenever and wherever you want!
Sign in with your Yahoo account to watch sports, get scores and live updates, and more.
Stream sports, get scores, live sports news, and more. 3 reasons you'll love Yahoo Sports:
1. Watch live games – You can stream sports and watch your favorite games this season on your tablet and phone.
2. Set custom alerts – Get the latest news and live updates about your favorite teams and players.
3. Stay in the loop every season – Get sports scores, stats, and updates all season long.
With Yahoo Sports, you'll get:
• Home
Set your favorite teams to get schedules, game highlights, sports news, and live updates in your own personalized news stream. You'll also find can't-miss original news from Yahoo Sportswriters like Dan Wetzel, Chris Haynes, and Pete Thamel, plus a stream of top news across all sports.
• Get scores
Keep up with this season's football scores from kickoff to playoffs & follow other sports scores, stats, live updates from college football, NBA, NHL, and more.
• Watch NFL Live and watch Live Games
Get live NBA & NFL games and MLB and soccer highlights when you stream sports and games directly to your phone and tablet. Throughout the season, watch sports highlights, top plays, and game recaps – all in one place.
• Stories
Get exclusive content from Yahoo Sportswriters, along with the most important headlines in sports.
• Play
Check out Yahoo Fantasy Slate, our prediction game where you have the chance to win cash prizes every week!
• Sportsbook
Our hub provides users with access to everything betting* at their fingertips. Whether it's betting odds, expert analysis, editorial content, and video, Yahoo Sports users will be able to find everything in one place. New to sports betting? Yahoo Sportsbook has everything new bettors need to get started from betting guides to matchup breakdowns from trusted experts.
Note: Yahoo Sports does not offer real money gaming. It includes sports betting content and data, but no gaming/betting takes place within our app. All transactional gaming/betting takes place within a separate app, BetMGM, not the Yahoo Sports app.
• Alerts
Set alerts for your favorite team & get alerts to watch sports – live. Get scores, live updates & sports news when you want them. Follow every scoring play or only when a game starts.
Follow and watch sports:
– Football: Free live NFL football for local and primetime games on your phone or tablet local. Check out football scores, highlights, breaking news, and stats, and watch football – college football and NFL games – your way
– College Football, College Basketball, Women's College Basketball
– MLB: Baseball scores, highlights, breaking news, and stats
– NBA, WNBA: Watch live NBA games, and get score and live results, highlights, breaking news
– NHL: Scores, highlights, breaking news, and stats
– XFL: highlights, breaking news, and stats
– Soccer:
– Premier League, League Two, League One, Championship, Scottish Premier League, FA Cup, League Cup
– Champions League, Europa League, Copa America,
– Ligue 1, Coupe de la Ligue, Coupe de France, Trophee des Champions, Ligue 2,
– Bundesliga, German Super Cup, DFB Pokal,
– MLS, Russian Premier League, Eredivisie, Brazil Serie A,
– Italian Serie A, Coppa Italia, Serie B,
– La Liga, Copa del Rey, Segunda Division, Spanish Super Cup
– Golf – PGA, LPGA, PGA Champions, PGA Web.com, PGA European,
– Auto Racing – NASCAR Sprint, NASCAR Xfinity, IndyCar, Formula 1
– MMA + Boxing
– Tennis – Men's Tennis, Women's Tennis
Want to watch NFL & NBA live games? Download Yahoo Sports to stream sports & get live results.
What's new
• Follow your favorite teams with news, scores, stats and highlights!
• We have also fixed bugs and made performance improvements.
Enjoying the app? We'd love to hear from you, leave us a review!
Images