Developer
ZipGrade LLC
Updated
Aug 23, 2023
Size
120M
Version
3.40.550
Requirements
6.0
Downloads
1,000,000+
Get it on
MOD INFO
Paid content unlocked
Note: App has server check for modded apps so don't login with your account or else it'll be removed/banned. This is only for local use, don't use online features.
Description
ZipGrade is a grading app that makes grading effortless while capturing, storing, and reporting useful data on assessments. No need to wait for the Scantron machine or sheetfed scanner to grade papers quickly.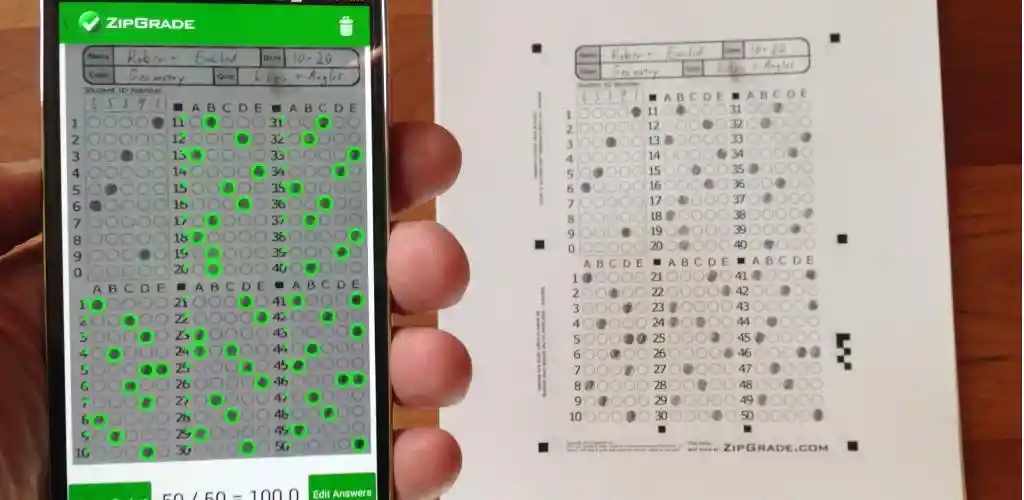 Students receive immediate feedback and can see their scores on a test as soon as they're done. Teachers can have all of their multiple-choice grading done before the next class starts. Based on teacher feedback over the last year, numerous options are available to customize ZipGrade to meet different classroom needs.
* Free answer sheets available in several formats and sizes (up to 100 question answer sheets)
* Works without internet connectivity. Data will sync whenever a connection is found (optional).
* Uses student ID numbers or written names of students for reporting.
* Knows when a paper is in the viewfinder and sufficiently in focus to grade. No buttons to press while grading!
* Students may use a pen or pencil. Handles erasures and white out well.
* Combination answers of up to 3 letters allow for up to 31 answers for each question– great for matching portions!
* Companion website (www.zipgrade.com), allows additional functionality and reporting once a free ZipGrade Cloud user is created:
– Secure backup of all graded papers and data
– Import Student Rosters
– Manage Student and Class Information
– Export Quiz results to CSV or PDF formats
– Download answer sheet packs by class with student information pref-filled
Quick Start:
1. Select from multiple answer sheet forms and sizes at ZipGrade.com. Download and print as many copies as you wish.
2. Within the ZipGrade app, press 'New Quiz'
3. Press 'Edit 'Key'. Enter your answer key or scan an answer sheet acting as a key
4. Press 'Scan Papers' to start scanning papers:
* Hold the paper on a flat surface and align the 4 corner squares in the 4 viewfinders.
* ZipGrade will automatically focus and identify when the paper is readable.
* The app will vibrate when the paper is graded and provide an instant summary (with links for more detail).
* No buttons to push, leaving your other hand free to turn to the next paper.
5. Review:
* View actual images of scanned papers and make any manual corrections (ie student's cross out out inked circles) in 'Review Papers'
* Get a view of how the entire class did in 'Item Analysis'. Item Analysis includes a drill-through to see alternative answers and which students gave those answers.
* Export results as PDF reports (to print and hand back or post) or CSV files to upload to your grade book.
As a free download with a 100 scan demo, we'd like you to try ZipGrade to see if it is the right grading app for you. If so, purchase additional time at any point as an in-app purchase. Once purchased, use your subscription on any device you own by logging in with the same ZipGrade Cloud user. Your data and subscription will sync between devices. Many teachers like to scan with their phones, but review with their tablets or desktop computer.
Great for exit tickets, formative assessments, summative assessments, or regular quizzes. By giving teachers the flexibility to grade papers instantly anywhere, ZipGrade provides immediate feedback on current knowledge and can be used to better focus lessons and assignments. Replace your expensive Scantron machine with the technology you're carrying with you already.
We're diligently working to improve the product and need feedback from teachers like you. Write [email protected] with any feedback or suggestions.
What's new
* Prevent accidental data copying on logout
* Updated libraries- billing and target SDK
Images