Developer
Zen Labs Fitness
Updated
Aug 7, 2023
Size
85M
Version
117.11
Requirements
6.0
Downloads
500,000+
Get it on
Description
10K Running Trainer Pro MOD APK is the easiest program to get beginners from couch potatoes to 10K distance runners in just 14 weeks. By the same experts who created the #1 C25K (Couch to 5K) training app!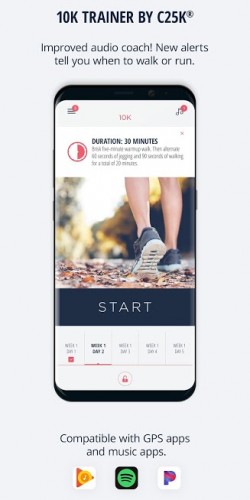 This proven 14-week plan will allow users to slowly build strength and stamina by alternating between walking and running. The blend of walking and running together reduces the overall impact and risk of injury, makes training more fun, keeps your body guessing, and prepares you to go the distance. By the end of the program, you will be fitter, stronger, and healthier than you have ever been and will be able to run a full 10k!
Turn on our award-winning music and just press start! Our audio coach will guide you through your run! It's that easy!
10K Running Trainer Pro MOD APK Features
◉ Easiest 10k program at only 3 times/week
◉ Convenient audio coach and alerts
◉ Map your run at the end of your workout!
◉ Light and dark modes
◉ Integrated with Facebook, Twitter, and Instagram
◉ Access to our forums with thousands of veterans and newcomers starting the app. Join the community and meet other runners!
What's new
A bunch of new updates just in time for Summer! Lets smash some goals and reach new heights of health and happiness!
Proud partners with Google WearOS and Samsung to be the featured running trainer!
Images