Developer
Zen Labs Fitness
Updated
Aug 7, 2023
Size
86M
Version
144.18
Requirements
Varies with device
Downloads
5,000,000+
Get it on
Description
C25K is easy to use, as you would hope for a beginner app. Daily programs that alternate between short bursts of walking and running until you're ready to go the distance. One of the highest-rated health and fitness apps. C25K® is the easiest program to get beginners from couch potatoes to 5K distance runners in 8 weeks.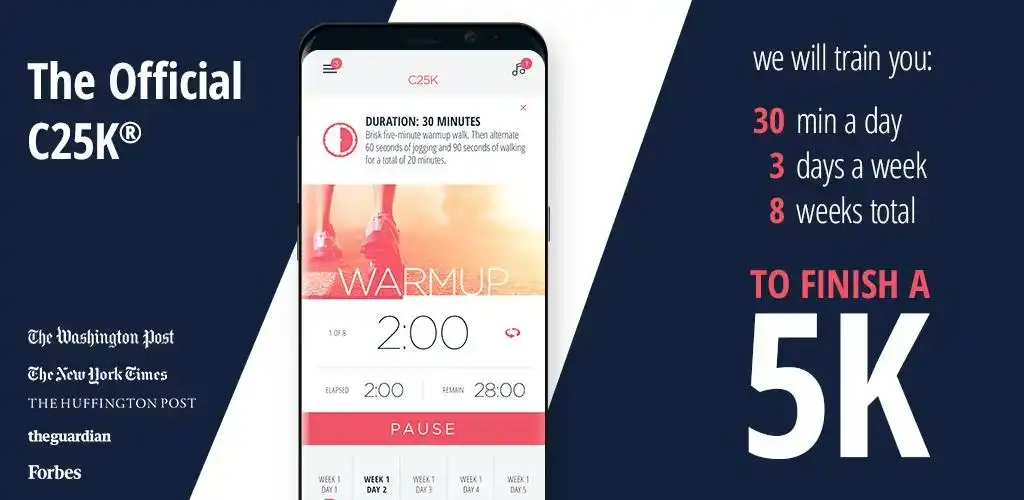 The proven C25K program was designed for inexperienced runners who are just beginning. The plan's structure prevents new runners from giving up and challenges them to continue moving forward. C25K works because it starts with a mix of running and walking, gradually building up strength and stamina.
≈ Less is More ≈
◎ Easy to learn. Just press start!
◎ Ideal for first-time runners
◎ 30 minutes a day, 3 days a week, 8 weeks total. Millions have finished their first 5K. You will too!
≈ Features ≈
◉ Convenient audio coach and alerts
◉ Map your run at the end of your workout!
◉ Exclusive partners with MyFitnessPal!
◉ Light and dark modes
◉ Listen to your own favorite music and playlists while you train
◉ Integrated with Facebook, Twitter, and Instagram
◉ Access to our forums with thousands of veterans and newcomers starting the app. Join the community and meet other runners!
What's new
A bunch of new updates just in time for Spring! Lets smash some goals and reach new heights of health and happiness!
Proud partners with Google WearOS and Samsung to be the featured running trainer!
Images