Description
AirScreen is the most advanced wireless streaming receiver for AirPlay, Cast, Miracast*, and DLNA. It can allow your device to receive screen mirroring, photos, music, videos and other media from phones, tablets, laptops and more via Wi-Fi or Ethernet, letting you experience the joy of sharing almost anything with your family and friends on a bigger screen.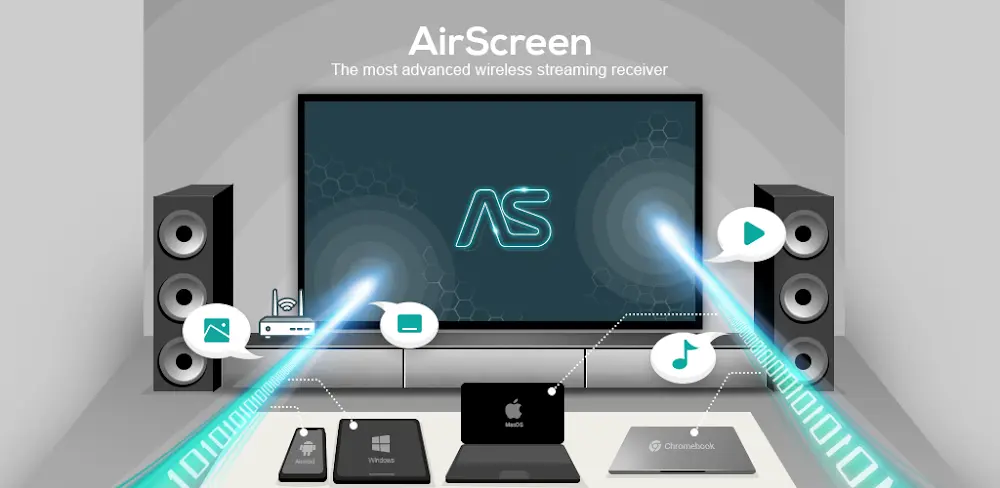 Why use AirScreen:
• Versatile Wireless connectivity: AirScreen supports all of the major wireless streaming protocols, including Airplay, Cast, Miracast*, and DLNA. This means you can easily receive almost anything from your devices without using cables.
• Compatible with many operating systems: AirScreen is compatible with mainstream operating systems including iOS 8 through 13, macOS 10.5 through 10.15, Android 5 through 10, and Windows 7 through 10. That means you can experience the joy of receiving almost anything across different platforms.
• Supports a huge range of applications: AirScreen can expand your experience to let you listen to songs from iTunes, watch videos with YouTube, view webpages from Safari and Chrome, and do so much more. Thousands of applications are supported by AirScreen, which means more media resources for you.
• Convenient use: AirScreen only needs to be installed on the devices you want to receive media on, you don't need to install it on any of the devices you want to send media from.
• Screen recording: You never have to worry about missing content. AirScreen can record any time you use it, so you can keep your favorites.
• Privacy protection: AirScreen protects your privacy from being violated by using encrypted data transfer over the network to avoid unauthorized data access.
• More advantages: AirScreen improves your media viewing experience using Video Hardware Acceleration (Improve the performance of video playback up to 40% or more), supports Ultra High-Definition resolution (4K) for clearer pictures, has Background Service Mode to let you work on other things while you receive, lets you personalize with features such as setting device names, and has even more strengths.
AirScreen video tutorials:
https://www.youtube.com/c/AirScreenApp
AirScreen is always innovating, so we want to hear your voice. If you have any comments, questions or concerns, please send an email to us at [email protected].
* This feature has been disabled since Android Oreo (8.0).
What's new
1. Added support for the station mode in Miracast.
2. Added support for internal (embedded) subtitles of the video in the video player.
3. Improved the compatibility issue of AirPlay for the YouTube app.
4. Improved the compatibility issue of the onscreen passcode for AirPlay on some iOS devices.
5. Improved connection stability of Cast for the new version of Oculus devices.
6. Stability and performance improvements.
Images