Description
AUDIATOR Converter (All Video Audio Converter PRO) is a powerful audio and video management, conversion tool for android, which converts any audio, any music, audiobook, ringtone, records in any length and with a variety of options.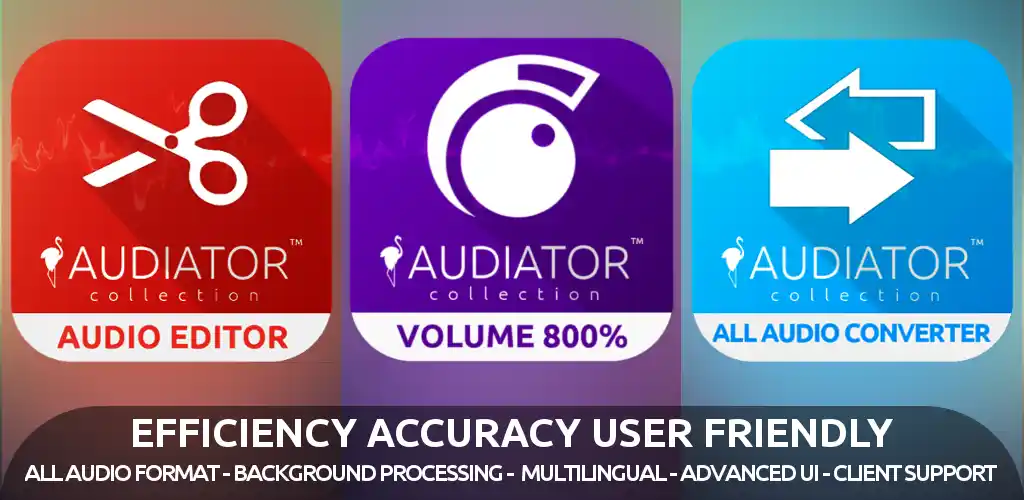 With AUDIATOR Converter the mp3 audio converter and video converter for android, you can easily search for any audio aac, Ogg, aif, AIFF, wav, RA, FLAC, WMA, ac3 and any video Rmvb, Flv, Avi, mov, mp4, m4a, 3gp, 3g2, mj2, Mkv, WMV, WebM, Divx, any music, audiobook, ringtone, records and extract audio from them, set the output destination with a custom frequency, bitrate, channel mono, channel stereo.
The user interface is very exciting and entirely based on MATERIAL DESIGN.
AUDIATOR mp3 converter for android is a sound app that gives new format music to your headphone and speaker based on the famous library FFmpeg.
About FFmpeg, FFmpeg is number 1 in the world of multimedia processing and mp3 convert and video convert, therefore, AUDIATOR Converter the mp3 music converter for android benefits from all its strength and speed and will exceed your headphone and speaker limits with the loud sound.
USAGE:
AUDIATOR the mp3 volume booster for android has a very simple user experience, with only three steps, you can search and convert all the audio within your android phone to give your headphone and speaker the preferred format sound:
1° import music, video, audiobook, ringtone, records "+"
2° customize the conversion settings or just let the defaults mp3 format conversion settings depend on your headphone and speaker limits.
3° run mp3 volume boost "Boost" to make the loud sound.
And finally, you can listen, compare, set as ringtone and share the boosted loud music via social media or emails.
CHARACTERISTICS:
1° supported input audio formats are mp3, mp2, WMA, RA, Ogg, aac, ac3, wav, FLAC, aif, and ogg.
2° supported input video formats are Rmvb, Flv, Avi, mov, mp4, m4a, 3gp, 3g2, mj2, Mkv, WMV, WebM, and Divx.
3° a Background Mode that can work for hours in the background if you plan to amplify all your music libraries while sleeping.
4° a wealthy explorer to import from the mp3 music library of the smartphone or from SD memory with the possibility to search and import globally.
5° rich Audio Bitrate options.
6° rich Audio Sample Rate options.
7° the user interface is rich in terms of animation and it is based on Material Design and google guides.
8° the ability to read mp3 music with headphones and speaker, share mp3 music, modify mp3 music and tone as the converted result files.
9° queue management and batch processing.
10° supports all ARM devices (CPU).
11° A direct connection with the development team to report and suggest new features
What's new
• add support to armeabi-v7a, arm64-v8a, x86 and x86_64 devices.
• update to latest Android version.
• important corrections and optimizations.
• add support to 38 languages.
• update the core to the latest stable FFMPEG version.
• .aac super faster encoding.
Images