Developer
n-Track
Released on
Oct 6, 2016
Updated
Dec 6, 2023
Size
78M
Version
10.0.110
Requirements
5.0
Downloads
10,000+
Get it on
Mod Info
Unlocked All Paid Packs
Unlocked All Exports
Unlocked annoying  audio ads
Disabled annoying Banners
Note
– No Login Required
– Saved /Shared files are available at /storage/emulated/0/Android/data/com.ntrack.studio.demo
Description
n-Track Studio is a powerful, portable music-making app that turns your Android device into a complete Recording Studio & Beat Maker. Record a virtually unlimited number of Audio, MIDI & Drum Tracks, mix them during playback and add effects: from Guitar Amps to VocalTune & Reverb. Edit songs, share them online & join the Songtree community to collaborate with other artists.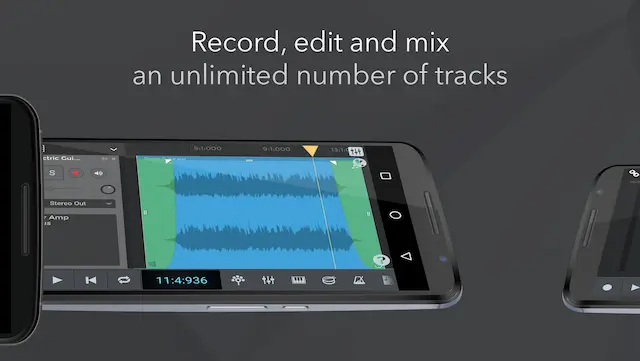 HOW IT WORKS:
• Record a track with the built-in mic or an external audio interface
• Add & edit audio tracks using our Loop Browser & royalty-free sample packs
• Import grooves & create beats using our Step Sequencer Beat Maker
• Create melodies using the internal keyboard with our built-in virtual instruments. You can connect external keyboards too
• Use the mixer to adjust levels, pan, EQ & add effects
• Save or Share the recording directly from your device
Check out n-Track Studio Tutorials for Android: https://ntrack.com/video-tutorials/android
MAIN FEATURES:
• Stereo & Mono audio tracks
• Step Sequencer Beat Maker
• MIDI tracks with built-in Synths
• Loop Browser & in-app Sample Packs
• Virtually unlimited number of tracks
• Group & Aux channels
• Piano-roll MIDI Editor
• On-screen MIDI keyboard
• EQ with 2D & 3D Spectrum analyzer + chromatic tuner
• VocalTune – pitch correction: automatically correct any pitch imperfections on vocals or melodic parts
• Guitar & Bass Amp plugins
• Reverb, Echo, Chorus & Flanger, Tremolo, Pitch Shift, Phaser, Tube Amp, and Compression effects can be added to any track & the master channel
• Built-in Metronome
• Import existing tracks
• Automate track volumes & pan using volume and pan envelopes
• Share your recordings online
• Collaborate to create music with other musicians with the integrated Songtree online music-making community
• Languages included: English, Spanish, French, German, Italian, Portuguese, Russian, Indonesian
ADVANCED FEATURES:
• 64-bit double precision floating point audio engine
• Follow Song Tempo & Pitch Shift dropdown menu on Audio Loops
• Export 16, 24, or 32-bit audio files
• Set sampling frequency up to 192 kHz (frequencies above 48 kHz require an external audio device)
• Internal audio routing
• Sync with other apps or external devices using MIDI clock & MTC sync, master & slave
• Record 4+ tracks simultaneously from USB pro-audio devices such as RME Babyface, Fireface & Focusrite
• Support for multiple audio outputs when using compatible USB devices
• Input monitoring
What you get:
• Unlimited audio & MIDI tracks
• Unlocks all the available effects
• Unlimited number of effects per channel
• Export to WAV or MP3
• 64-bit audio engine
• Multichannel USB class-compliant audio interfaces
• Export in 24, 32, and 64-bit uncompressed (WAV) format
• 3D frequency spectrum view
One-time, in-app purchases available:
• 10GB+ of Premium Royalty-Free WAV Loops & One-Shots
• Exclusive release-ready Beats & editable n-Track Studio Projects
• 400+ Sample Instruments
Conclusion
Download N-Track Studio MOD APK and enjoy all ultra-premium perks. Enjoy all the benefits of Premium Pro without spending a cent. Enjoy unlimited music production, unlimited beats, unlock tons of premium perks, and more. Get the N-Track Studio MOD APK and have fun even if you don't see ads for watermark issues right away.
What's new
• Create your own instruments by dragging & dropping or recording sounds into the step sequencer, piano roll, drums or screen keyboard
• Save and recall chains of effects and instruments
• Quickly reload saved songs with the new Song Browser
• Add some celestial magic to your tracks with the new Shimmer effect
Like n-Track Studio? Please leave a review & help us keep improving the app for you.
If you have found a problem with the app please use the Report Problem button in the Settings box.
Images