Alphabets game – Numbers game APK – Go on an adventure and play with Aquatic, Farm, Savannah, and Jungle animals. Learn numbers and letters with this unique "Connect the Dots" Animal Encyclopedia. Master your alphabets and practice counting skills and be rewarded with animal sounds, pictures, interesting facts, and videos. This educational game is really helpful for preschool children and toddlers and even those with autism – as it helps them with problem-solving and motor skills and teaches them pronunciations.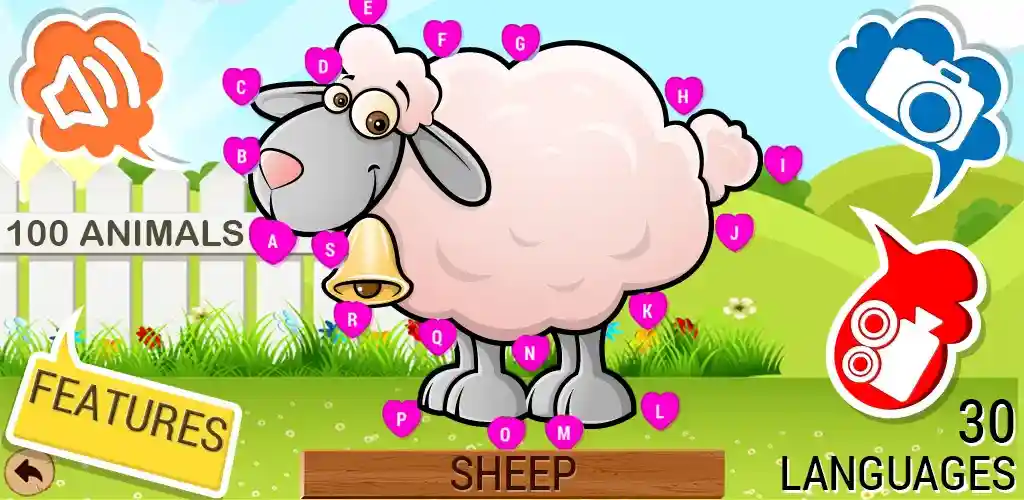 Themes:
Sea Animals: did you know the octopus has 8 legs, have you ever seen a squid swimming in the sea or heard a dolphin laugh, well now you will.
Domestic Animals: you have probably played with a cat & a dog, but we bet you don't know some fun facts about them, have you ever heard a camel growl or seen an ostrich?
Savannah Animals: Want to see a bee land on a flower, hear a wolf howl, learn common facts about the hippo, rhino, zebra, and many more.
Jungle Animals: the Lion king, scary tiger, funny monkey, cute panda, and many more.
Features:
– tap the dots or drag and draw lines to connect sequential numbers (123) and upper (ABC) or lower (ABC) case letters.
– each dot pronounces the number or letter and so kids learn the alphabets and numbers (1 to 20) and also counting.
– help feature for baby children where the outline of the animal is shown, the next dot in sequence starts blinking after a 4-second gap, and joining the wrong dot makes it say 'No'.
– to make it more fun you can change the shape or colors of the dots as well.
– Easy and Hard modes with fewer and more dots respectively and kids can also select reverse numbers and letters to test their skills.
– animal comes to life and it plays the animal name and sound.
– select the image icon to see real animal pictures, the video icon to see the animal in motion and the parents can help explain to the kids the unique facts of each animal that are presented with the images.
– 100 hand-drawn animals which look cute but are detailed enough to recognize features.
– 29 supported languages.
Feedback Please:
If you have any feedback and suggestions on how we could further improve the design and interaction of our apps and games, please visit our website www.iabuzz.com or leave us a message at [email protected]