Description
Fancy Security is a fast, light & powerful Android antivirus, phone cleaner, and booster app. It can remove viruses, boost phone memory, and clean storage space with simply one tap.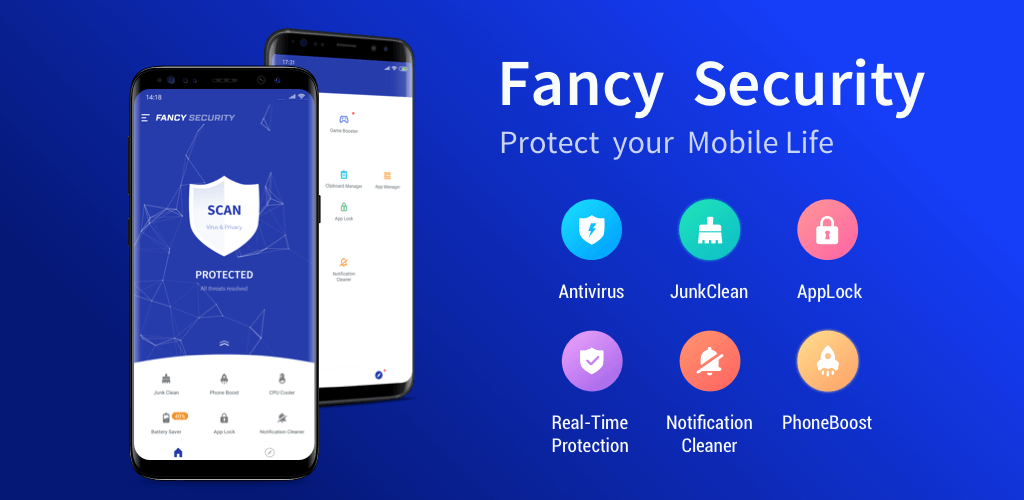 Introduction
Fancy Security is an application that helps you protect your device, speed up its performance and optimize its use. Easily detect and remove viruses left on your device to avoid any ill effects. At the same time, each player can delete unused files and clear caches for faster processing. Moreover, we cannot ignore the valuable security features of the application.
TAKE ADVANTAGE OF THESE SCANNERS FOR YOUR DEVICE
If you experience the new Fancy Security update, you can't miss two new scanning features, including the Duplicate Files and Empty Folders Scanner. The first scanning feature identifies duplicate files on your device. Duplicate files occupy a certain amount of disk space, so you should delete unnecessary files or send them to another location. With the ability to scan empty folders, you can quickly sort your device.
PROTECT YOUR DEVICE EASILY
Fancy Security Users can find many useful features to easily secure their devices and improve their performance. So you can use your device with peace of mind. The device protection feature helps completely block viruses from invading and damaging important information on your device. It can identify and remove viruses and malware in just a few scans.
CLEAN JUNK FILES AND CACHE FOR THE DEVICE
In addition to Fancy Security's device protection features, there are no doubt other useful features such as: For example, it helps clean up unnecessary files. With just a few taps, you can remove junk files that frequently appear on your device. The application also supports clearing caches within the application. This can be considered one of the reasons why your device is slow because it has to process the information in these files.
SET SOME APPS TO HIBERNATE
Fancy Security has many criteria that users can use to hibernate applications and restrict their operation. In particular, you can find applications running in the background that you don't use often. You can quickly add them to the appropriate list and focus on using the applications you deem necessary. You can also find out which applications are using your network connection space and stop them at will.
CREATE A HIGH LEVEL OF SECURITY FOR YOUR DEVICE
The interesting thing about using the application is that you can completely increase the security level of your device and prevent virus intrusion. You can protect your important apps with the app lock function that only people who know the password can access. From there, intruders from various sources can be prevented, and your device will be safe and worry-free.
REMOVE UNNECESSARY NOTIFICATIONS
You can also set notifications for other apps. This is essential because we use some applications on a small scale but cannot remove them for many reasons. Therefore, we need to remove notifications related to it so that important information can be updated more accurately. It's a tool that shouldn't be ignored.
Key Features
Virus Cleaner – Clean up viruses fast and easily from your device
Smartphone cleaner for Android – intelligent junk cleaner engine & speed cleaners
Fast phone cleaner and booster – one-tap boost & auto-clean phone memory and storage space
Cache Junk cleaner – Remove any garbage files that slow device speed and RAM usage
Power boost your memory – cleaning junk files & optimize storage in depth
App Lock – Lock the app with a password and pattern to protect your privacy
Notification Cleaner – Arrange & clear up annoying app notifications to a clear notification bar
Battery Saver – Save battery power and extend battery life by hibernating running apps
Network Analysis – Monitor apps that are consuming your mobile traffic and hibernate them with one-touch
Similar Photo Clean – One tap to scan & auto-clean similar and duplicated junk photos on your device
What's new
+ The new feature of Wi-Fi Security
🛡️ Antivirus and Realtime protection
🌟 Smartphone cleaner
⚡ Fast phone cleaner
Images