AppBlock is an application that helps you (its users) to block distracting applications and websites temporarily on your device so that you can control phone addiction in school or at work. The blocker app can get activated for a precise time and date, and once the pre-set time duration is over, the blocked apps or websites can be used again.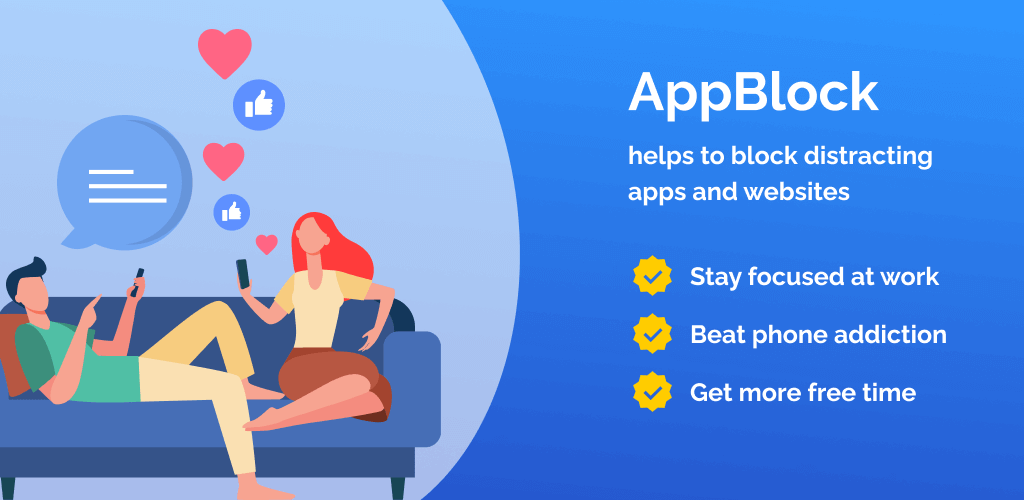 Download Also: BubbleUPnP for DLNA / Chromecast / Smart TV [Patched]
What is AppBlock?
AppBlock is an application that allows you to lock your applications to focus on your work and increase your concentration. Various functions allow you to balance work and playtime. At the same time, you can set up additional settings and application usage profiles to optimize your application usage. If you use the application for work or play, you won't ignore the stats.
Set your profile according to the wifi connection or location, too (your profile will start when you get to work, etc.). The solution for weak self-control? You will not be able to cancel your profile thanks to Strict Mode, which blocks your access to AppBlock.
Smart productivity app & self-control booster
Use AppBlock as your social media blocker, focus timer, and generally a versatile focus app to boost productivity. See why AppBlock is the best block site and app blocker for Android. Block social media websites and other distracting apps.
How to use:
Our self-control app AppBlock – Stay Focused (App Blocker & Web Blocker) is easy to use a productivity app. Download & select the apps and websites that may seem distracting while you are doing important work. It is not only a social network limiter but you can also:
By using the app blocker self-control app, you can block any application and any website.
You can temporarily block your email & keep your email notifications off.
You can set an app or website with a usage time limit for each day. For example, for social media apps, only 20 minutes of Facebook during work time or at school.
If you don't want to be able to change settings during blocking time, just use AppBlock Strict Mode, which will help you with your self-control.
You can disable other notifications for a specific time to help you concentrate.
Features:
Take a look at the app blocker & web blocker features of the AppBlock app and learn more details about how this utility and privacy protector app works for your work-life balance:
Block applications & sites: be choosy and selective about app launches.
Select how long you want to spend in a particular application or on a website per day when a profile is active.
Block notifications from a specific application: you can avoid unwanted communications.
Create profiles with rules for groups of particular applications: you can impose restrictions on public visibility.
Use a timer and activate profiles for a selected time window.
Protect your AppBlock application with a PIN code: it will enhance your security protocol and privacy configurations on your device.
List of blocked notifications, so you don't miss anything.
Profile lock (unlock only when the phone is connected to the charger).
Strict Mode to lock your AppBlock settings.
Conclusion
Download the app AppBlock and stay more focused only on your work. It is a supportive and straightforward way to enhance your productivity and work quality by staying focused on your task only.