Developer
Mega Fortuna
Updated
Aug 3, 2023
Size
30M
Version
6183-2r
Requirements
5.0
Downloads
10,000,000+
Get it on
mod info
◉ VIP Unlocked
◉ Ads patched;
Description
AppLocker is an App Lock (App Protector) that will lock and protect apps using a password or pattern and fingerprint. AppLocker can lock, Social Media apps, Messaging apps, Galleries, Contacts, Settings, and any app you want. Prevent unauthorized access and protect your privacy.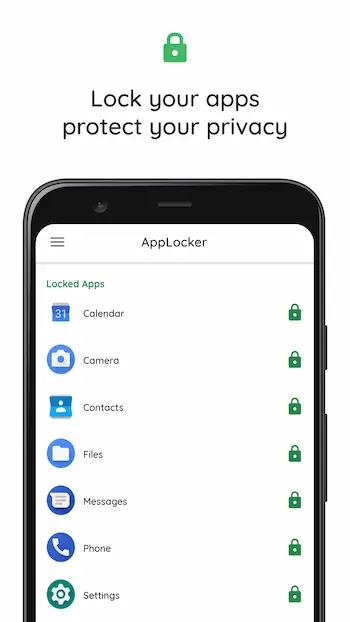 Introduction to AppLocker: The Android App Lock
In today's digital age, it's more important than ever to keep our personal information secure. From sensitive financial information to private messages and photos, our devices hold a wealth of information that we want to protect. That's where AppLocker: The Android App Lock comes in. This app allows you to lock specific apps on your Android device, ensuring that your personal information stays safe and secure.
Main Features
App Lock: The core feature of AppLocker is its app lock, which allows you to set a PIN code or pattern to lock specific apps on your device. You can choose which apps you want to lock, giving you complete control over your security.
Customizable: AppLocker is highly customizable, giving you the ability to set different PIN codes or patterns for different apps. This means you can have a different code for your social media app, for example, then you do for your email app.
Intruder Selfie: One of the most unique features of AppLocker is its "Intruder Selfie" feature. If someone enters the wrong PIN code or pattern when trying to access one of your locked apps, AppLocker will take a photo of them. This gives you a visual record of who tried to access your device, helping you to keep your information secure.
Easy to Use: AppLocker has a user-friendly interface that makes it easy to set up and use, even for those who are not tech-savvy. The app is simple to navigate, and you can have it up and running in just a few minutes.
Battery Efficient: AppLocker is designed to be battery-efficient, so you don't have to worry about it draining your device's battery.
Key Features
Lock apps with password, pattern, or fingerprint lock.
Themes with many color options.
Lock system settings to prevent an unwanted changes by kids.
Prevent uninstalling apps.
Additional Benefits
Increased Productivity: By locking distracting apps, AppLocker can help increase your productivity and focus.
Peace of Mind: Knowing that your personal information is protected can give you peace of mind, allowing you to use your device with confidence.
Easy Sharing: When you're handing over your device to someone else, you can simply lock your sensitive apps instead of logging out or deleting them. This makes it easy to share your device with others while still keeping your information secure.
Technical Details
Compatibility: AppLocker is compatible with most Android devices, including smartphones and tablets.
File Size: The app has a small file size, which means it won't take up too much space on your device.
Update Frequency: AppLocker is frequently updated to ensure it remains secure and up-to-date with the latest security features.
User Reviews and Ratings
High User Satisfaction: AppLocker has received high ratings and positive reviews from users, who appreciate its ease of use and effective security features.
Trusted by Millions: With millions of downloads, AppLocker is a trusted and reliable app that provides high-quality security for Android users.
Conclusion
In conclusion, AppLocker: The Android App Lock is an essential tool for anyone looking to protect their personal information on their Android device. With its powerful features, customizable security options, and user-friendly interface, it provides a high level of security for your data. Whether you're looking to protect your photos, messages, or financial information, AppLocker is the perfect app for you. So why wait? Download AppLocker today and start protecting your privacy!
What's new
- Performance Improvements!
Images