"Audiko Ringtones™ is a free ringtone maker with a huge database of millions of FREE ringtones, the hottest & most popular Audio Tracks, amazing HD wallpapers, and funny Stickers. Audiko MP3 Cutter and Editor is one of the most trusted Apps in mobile device personalization!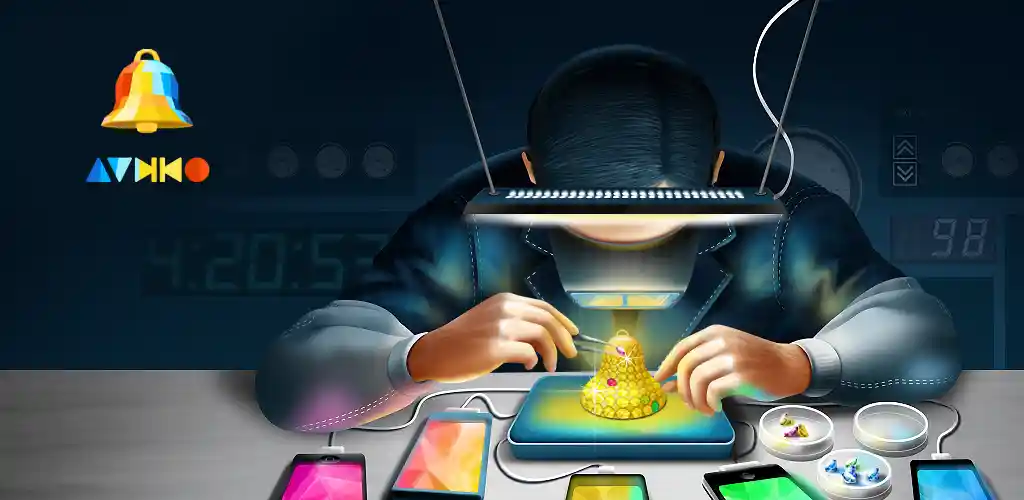 Welcome to join the over one million people family worldwide who use Audiko App!
Our music library has millions of tracks to satisfy any music taste. So be ready to get custom notification ringtones for beep in your app.
Audiko Ringtone Editor App Tools & Features:
* Music & Audio: impressive Android music collection of near 2,000,000 top & fresh & new mobile tracks;
* 10,000 breathtaking HD & 4K Wallpapers for your mobile devices' Background;
* daily updated audio database;
* intelligent & easy-to-use tracks search system;
* Ringtone editor tool: personal Ringtone-maker and Audio Editor;
* Ability to choose and create your new "my ringtone";
* support almost all file formats: MP3/MP4/WAV;
* Compatible with the vast majority of Android mobile phones, Android Tablet PC.
You don't need special skills in music editing to create your new CUSTOM RINGTONE with ease!
How to cut MP3 for your Android device:
• download the Audiko MP3 cutter and editor app;
• choose MP3 audio files from your phone or track them from our giant mobile music library;
• cut it as you wish. Our App Audio Cutter is very easy to use!
• set it as individual notifications for your contacts, message, or alerts
Make your smartphone the unique one with groovy ringtones from Audiko FREE Ringtone-maker App for Android devices.
Stand out of the crowd, download this compact and simple tool to set the best ring tones, alerts, and 4K wallpapers on your phone!
Upgrade Audiko PRO VERSION TO GET TOP FEATURES:
* An unlimited number of ringtones: Top 100 music charts, Pop music, 2018 Hot track novelties;
* Ads FREE MP3 Master Tool;
* Easier to use interface;
* Higher quality of phone ring tones, perfect music sound.
Don't forget about a huge variety of beautiful HD wallpapers for your backdrop. Your phone deserves a high-quality home screen!
Audiko Wallpaper App Features:
• Special Wallpapers for HD Backgrounds;
• Set Audiko HD wallpapers as Main Screen wallpaper;
• Set amazing wallpapers to the Lock screen.
Audiko changes your phone into a personalized device by transforming each of your phone call, each text message, and moment of screen time into an entertaining experience.
If you can't find some tracks in our library, you can download them from your phone and cut the audio MP3 as you wish.
Download the Audiko Ringtone Master App right now for FREE and Get access to the best tracks from all over the world!
• No more standard and boring sounds on your phone!
• No more gloomy wallpapers on your device backgrounds!
• No more old tracks on your modern device – get rid of them!
• No more getting confused about whose phone is calling!
We have just the best and real ringtones!
Just stylish and modern music cutter app design!
We will make your phone sound and look cool!
Audiko Ringtone Maker App COMPATIBILITY
Audiko app has been tested on numerous Android™ powered phones for almost the 3 years. So, this Ring tone Editing App is compatible with the majority of Android mobile phones and Android Tablets.