Developer
Image Crop n Wallpaper Changer
Updated
Apr 12, 2023
Size
13M
Version
2.5.2
Requirements
5.0
Downloads
1,000,000+
Get it on
Description
Auto Wallpaper Changer – Daily Background Changer we add new unique as well as top quality wallpapers changer to full HD wallpapers every day.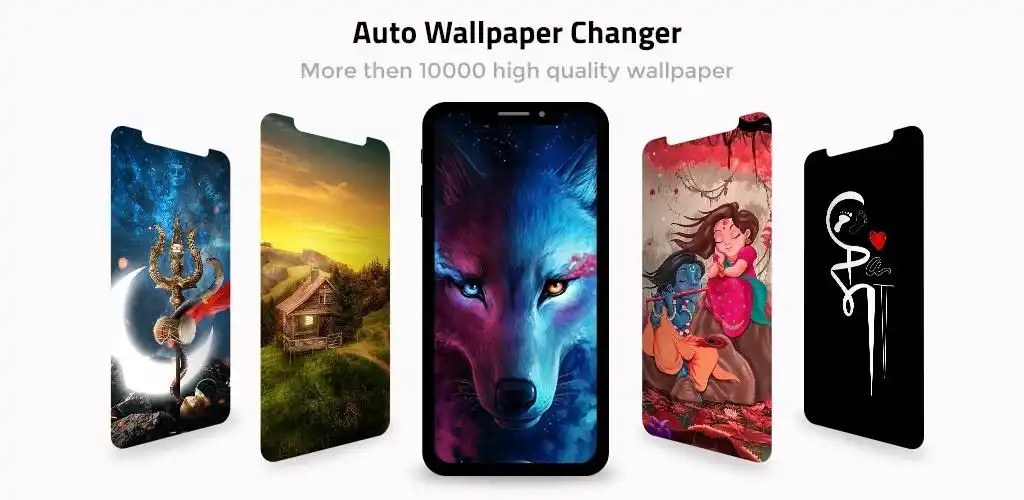 This feature changes the mobile desktop background automatically. Auto change wallpaper in seconds to change your mobile wallpaper quickly and automatically. A user can choose time frequency to change wallpapers automatically. You can set a wallpaper app in just one click is no need to hesitate to open a gallery and find images. With your favorite pictures slipping on your mobile screen, this fantastic app provides your phone an enticing look. Additionally, when entering a particular location, you can allow a timer to automatically alter your wallpaper at a predefined moment. You can add unlimited images or the entire photo gallery with auto change wallpaper HD.
Features of Auto Wallpaper Changer – Daily Background Changer:
# Easily add images or whole folders.
# Wallpapers specially design for Phone.
# Use the widget or shake your smartphone to set a random wallpaper.
# Select time interval to change wallpapers.
# Apply random effects on the wallpapers.
# Download pictures from HD wallpapers automatically.
# Change your own wallpaper automatically.
# Very low battery consumption.
# On/Off the wallpaper change option in settings.
Auto wallpaper changer – daily background changer new picture using a camera or create your own wallpaper. You can crop the image to required dimensions or it will crop the selected image from center to best fit as wallpaper without affecting the original image. Everyday change wallpaper is the best instant wallpaper change app that renovates your phone context daily with the backgrounds of HD and 4k wallpapers that thousands of individuals love. Auto change wallpaper helps you to change the wallpaper automatically on your phone at a given transition time between two images. Auto shift wallpaper has a big collection of 3d wallpapers and backgrounds. Simply set this live wallpaper and shake your mobile phone every time you want to change the best wallpapers.
Auto wallpaper changer – background changer this is to serve amazing HD wallpapers to the people all across the world. Bring your screen to life with exclusive HD wallpapers delivered to you by the android station team. Each wallpaper is a true masterpiece chosen by the android station team to see more. The free app provides thousands of HD wallpapers and HD backgrounds to make your screen unique and elegant. You not like only one or some regular live wallpaper to look at. You want to change this wallpaper but every day you do not change because you have no other image. Create beautiful wallpaper with changing images randomly on your screen.
Auto wallpaper changer is an automatic wallpaper changer app that renovates your phone background daily. you'll choose the category and add your own wallpapers. This App helps you to vary beautiful wallpaper and add the attractive slide show of wallpapers into your mobile screen. Choose Wallpaper images from your gallery and set an interval between each picture to display in your wallpaper.
This app can select any saved image and have it automatically be displayed as your wallpaper for a set amount of time. That is an automatic background changer to screen Saver wallpapers or free live wallpapers for android and live wallpapers 4k HD to 4k backgrounds is best wallpapers app wallpapers HD or background wallpapers but 3d live wallpapers and backgrounds.
Download and give us reviews for Auto Wallpaper Changer – Daily Background Changer.
Images