With BandLab's social networking features, you can find new friends, connect with collaborators and start a band with fellow musicians, guitarists, beat makers, rappers, and more no audition is needed! Message the pros and pioneers in the community for tips and techniques, and share your favorite collections with an audience that's always eager to listen. Go from a new to a seasoned musician in no time.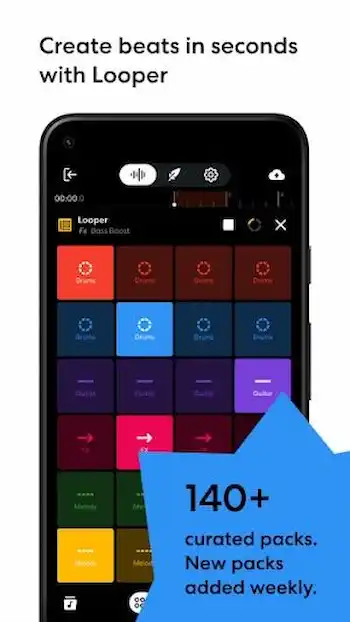 BandLab also lets you discover and stream millions of tracks made by emerging and established artists, bands, and DJs. Create personalized playlists or tune in to our daily chart-topping curations!
Our app comes with unlimited cloud storage so you can record to your heart's content. What's more, BandLab works seamlessly across all devices – crossover to our desktop site to load your projects, feed, bands and communities instantly.
BandLab is FREE to use. No subscription fees, paywalls, or limits to your experience. Get #BandLab and be a music maker today!
FEATURES
12-Track Mix Editor – Access our multi-track digital audio workstation (DAW) to record live audio or import, mix, splice, and tweak tracks for the perfect mixdown. Customize track layers and add lyrics instantly.
100+ Vocal/Guitar/Bass Presets – Access world-class effects with real-time monitoring. Use a medley of effects and filters, from drum phasers to gated reverb and more.
Looper – DJ like a pro with our extensive loop packs. Build an orchestra of sounds, add some synth or reverb, or just freestyle your way to a whole new mixtape while on the go.
Creator Kits – Produce all-new grooves using preloaded sound packs across multiple genres. Think of it as your favorite virtual drum pad machine (DPM) or music production controller (MPC).
200+ Virtual MIDI Instruments – Compose music using anything from acoustic guitars to keyboards, pianos to synthesizers, and a variety of drums, all within an app that fits in your pocket.
Explore – Not in the mood to create? No problem! Let BandLab be a source of entertainment as you explore and get inspired by new artists, genres, and collections curated just for you.
Creator Connect – Team up with like-minded artists just around the corner or halfway across the world! Just fill out your profile and we'll match you to potential collaborators who share your musical taste and inspiration.
Mastering – Need your mix to sound like it came from the production studio? Upload your song or recording and let our built-in equalizer work its magic. Supports mp3 and other formats.
Tuner and Metronome – Finding your rhythm is now a cakewalk with these essential audio tools.
Remix Tracks – "Fork" tracks that other creators have shared with the community and make your mashups.