Bass Guitar Tutor Pro Learn To Play Your Favourite Bass Lines on the Bass Guitar with over 150 Songs. Learn Scales, Chords, and Modes in any position with this fully functional simulator. Listen and play back the scales or view the patterns. Play to a click/songs and play a bass line in any key. Highly configurable. Resize fretboard to suit all devices and tablets. Choose between p bass picked, jazz bass fingered, or slap bass. 4 string or 5 string.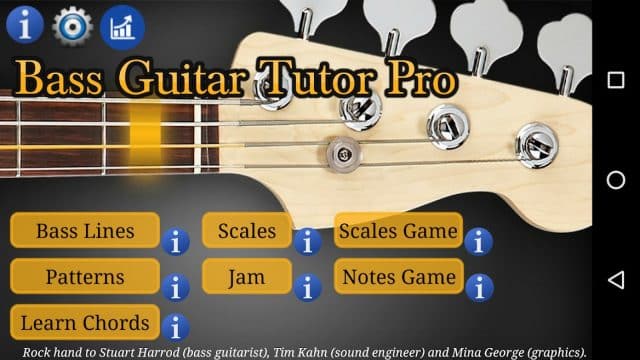 *****Features*****
Adjust the width or height of the fretboard to suit your playing style or device. Go smaller to see the whole fretboard or go larger for a real-life size!
Left-handed support.
The fingered bass sound has professionally recorded digitized Fender Jazz Bass guitar sounds for each separate note.
Focus on sections of the song to master those bass lines, patterns, and scales.
Adjust the speed and volume for playing along.
Highlight notes on/off to play by ear.
No advertising.
*****Bass Lines*****
Songs cover all genres: Rock, Indie, the 60s, 70s, 80s, 90s, Naughties, Modern, Latin, Classical, Film Themes, TV Themes, and Traditional. The pro version has an ever-expanding catalog of bass lines which include: ACDC, Aerosmith, Alice Cooper,
Axel F…and more
*****Scales*****
Select a scale from the extensive list.
Listen and watch the notes being played through highlights and then try to play it back. Check your answers. Start with just a few notes and then work up until you've mastered the notes in the scale.
Change the position.
Repeat scales ascending or descending.
View scale patterns as a reference.
***** Jam *****
Select the scale, mode, or broken chord in which you wish to play bass in. This will highlight all the right notes within the selected key on the whole fretboard. Then jam to it by aiming to play from the highlighted keys. You'll be surprised how good you'll sound just by hitting a few of the right notes! Play to a click or choose different backing tracks.
Record and Save your favorite jam sessions and play back your rockin' lines at a later date.
*****Bass Patterns*****
Learn to provide the bass in any key for any genre. Patterns include Alternative, Rock, Barrelhouse, Blues…and more.
*****Scales Games*****
Test your knowledge of scales.
Choose a level, or decide which scales to be tested on.
The app challenges you. You play it. Check your answers.
See how you are progressing over time.
***** Notes Game *****
Interactive exercise to learn the notes on the fretboard.
Choose which strings, frets, and keys to focus on.
See how you are progressing over time.
***** Learn Chords *****
Learn all the main chords including intervals and which fingers to use.