We welcome our devoted fans of battle royale games to BATTLEGROUNDS MOBILE INDIA APK + DATA, directly served by KRAFTON. Download BATTLEGROUNDS MOBILE INDIA for free and plunge into an incredible variety of maps, game modes, and thrilling challenges. You may go alone, or you can join up with your buddies to answer the call of duty and face your foes head-on.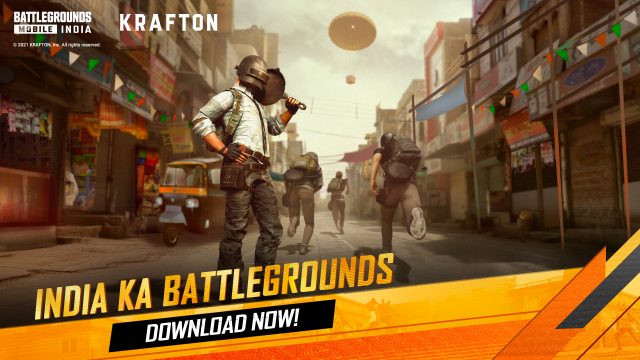 BATTLEGROUNDS MOBILE INDIA is a new free game developed for Indians. As promised, we arrive with an amazing variety of Launch activities to commemorate the week and even beyond. As more and more people join the game, the India Ka Battlegrounds event awards you with a permanent purple costume for free, so bring your friends and get prepared! There is more to come, such as Weekend Vibes, Celebration Time, Friends for Life, and much more with exciting prizes from outfits to weapon skins. Tune into the lobby and descend into the battlegrounds today!
Set in a virtual environment, BATTLEGROUNDS MOBILE INDIA APK + DATA is a new battle royale game where many players use tactics to fight and be the last man remaining on the battlegrounds. A free-to-play, multiplayer experience, in BATTLEGROUNDS MOBILE INDIA, players may fight it out in various game modes, which can be squad-based or solo.
INDIA'S FAVOURITE GAME
Featuring various maps with distinct terrains on a virtual setting, BATTLEGROUNDS MOBILE INDIA uses the full potential of Unreal Engine 4 to bring alive amazing landscapes enhanced by 3D sound to create a fully immersive experience on a mobile phone. Pick your map and model that fits you, and get ready for an exciting journey. More than pure fighting, BATTLEGROUNDS MOBILE INDIA, the free-to-play new game, is also a war of brains, as you create tactics to take on your opponents in a battle royale mode or a free firefight or even a one-one TDM. Are you up for the challenge?
With comprehensive monthly new content releases and world-class partnerships, there is always something to look forward to in this battle royale game. As we move down the calendar, we will hear more and more input from you on India's favorite game; we will collaborate with partners and bring exciting new partnerships your way.
Are you ready to experience #IndiaKaBattlegrounds? #BATTLEGROUNDSMOBILEINDIA
Requires a steady internet connection.
BATTLEGROUNDS MOBILE INDIA recommended system requirements: Android 5.1.1 or higher and at least 2 GB RAM.
The app #BATTLEGROUNDSMOBILEINDIA is specifically for gamers in India only, provided by KRAFTON.