Bird Mail PRO is a versatile email client app that offers users a fast and convenient way to manage their email accounts. The app has a user-friendly interface, is highly customizable, and boasts a rich material design and smooth touch graphics. It comes with an auto-configuration feature that makes setting up popular email accounts such as Gmail, Yahoo, Outlook, and Hotmail a breeze.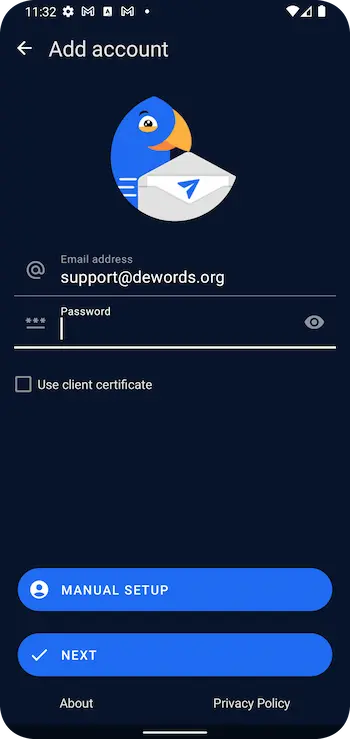 Advanced Security Features
Bird Mail PRO provides advanced security features to ensure the safety and privacy of its users. It utilizes OAUTH2 authentication for Gmail and Outlook/Hotmail accounts, which provides an additional layer of security during the login process. The app also supports encryption and signatures using OpenKeychain, ensuring that your emails are protected from prying eyes.
Flexible Configuration Options
The app offers easy configuration options for IMAP, POP3, and SMTP email accounts. Users can add unlimited email accounts and switch between them easily. The app supports push email instant notifications, ensuring that you don't miss any important emails.
Rich Text Editor and Formatting Options
Bird Mail PRO also comes with a rich text editor that allows users to compose their emails with ease. It offers formatting options such as bold, italic, strike-through, underline, text color, text size, and text fonts. The app also supports multiple email formats, ensuring that users can send emails in the format that suits their needs.
Convenient Email Management
The app offers several features to help users manage their emails more efficiently. Users can sort their email list by date, arrival, flagged, unread, or with attachments. The app also groups email thread lists, making it easier to follow conversations. The smart unified folder feature allows users to check all their email accounts in one place. Stylish color chips help identify email accounts in the unified folder list.
Customizable Options
Bird Mail PRO is highly customizable, offering multiple themes to choose from. Users can also change the font size for the email body, subject, date, and time. The app also offers stylish unread email and email list widgets, making it easier to keep track of important emails.
Other Features
The app also provides a stylish progress bar with Swipe Refresh, making it easier to stay on top of incoming emails. Users can copy or move emails from one folder to another, and there is an option to backup and restore account settings. The swipe-to-delete feature makes it easier to get rid of unwanted emails.
Overall, Bird Mail PRO is a feature-rich email client that offers users a secure, customizable, and convenient way to manage their email accounts. Its rich text editor, formatting options, and sorting features make it easy to compose and manage emails, while its customizable themes and widgets add a touch of personalization.