Developer
Team Birthdays
Updated
May 20, 2023
Size
19M
Version
2.1.2
Requirements
9
Downloads
500,000+
Get it on
Description
Birthday Calendar & Reminder MOD APK – Be the one who remembers all birthdays! Import friends and colleagues from your phone contacts or easily create them with this birthday calendar. Get notified on their birthday, congratulate SUPER FAST via WhatsApp, Telegram or send a beautiful greeting card.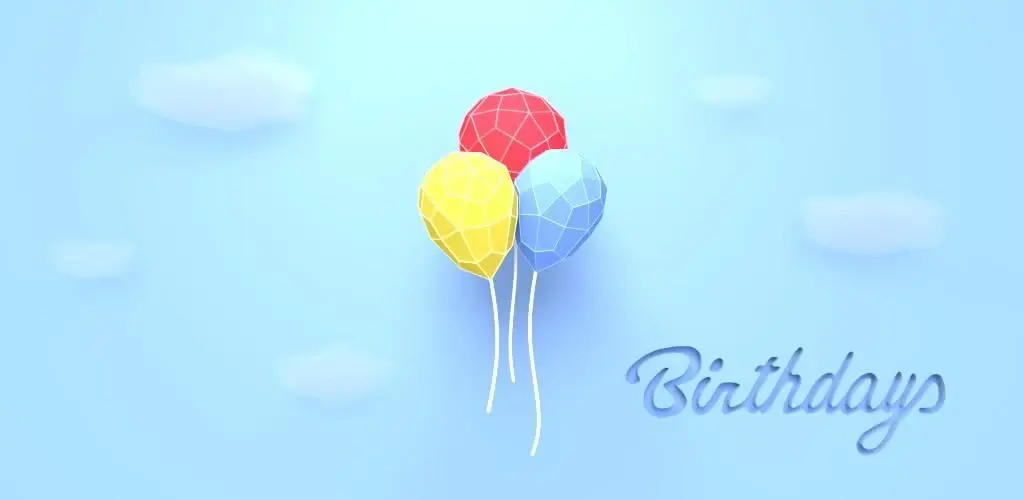 Do you know the embarrassing feeling of forgetting someone's birthday?😣 Waking up and realizing yesterday was your grandma's important day?😱 This will never happen to YOU again if you download Birthdays now🍀
★ Reminder for every birthday
You get reminded on all special days with a birthday alarm at the exact right moment. You decide whether you want to get a notification in the morning or after coming back home in the evening. Get a notification on the day itself and, if desired, a few days in advance.
★ "Tyler's birthday is today. He turns 33."
Birthdays tells you whose day is about to come, the age and your gift ideas. With just one tap you can wish happy birthday directly via WhatsApp or call the birthday child via phone.
★ Your birthday calendar created within seconds
Adding birthdays or anniversaries is super easy and fast. Either import from your phone contacts, Excel* or add friends and colleagues directly to the app. Build your personal birthday list.
★ Say Happy Birthday with a greeting card
Be special and impress your friends! Write your birthday wishes on one of the beautifully designed greeting cards and send them within seconds e.g. via WhatsApp. Birthdays is the only app of all birthday apps offering you greeting cards.
★ Write down gift ideas
Ed Sheeran's tickets for your friend? A blanket with your girlfriend's name? Write down gift ideas whenever they come to your mind. Never forget a great idea again.
★ Why using an additional app?
Due to many other appointments and entries, it's easy to lose track of the birthdays in your normal calendar app. Birthdays lists all events in an optimized way and sends you a birthday alarm on your friends big day. You easily see which events are about to come next and you never forget someone again. Bored by always writing the same wishes? Spice it up and send beautiful greeting cards to your dear ones.
Add personal gift ideas or other notes for your friends. Gift ideas are collected throughout the year and you will be reminded in advance to get the gift stress-free. Did we by the way mention the beautiful design of your future birthday calendar? 😏
★ Widgets
With handy widgets on your home screen you have all special days in sight. Got a good gift idea? Tap on the widget and you'll be right in the app to capture the idea or wish happy birthday. Always know which friends' special day comes up next.
★ Built in age calculator
You don't know the birth years of your friends? No problemo amigo 🌵, just type in how old they are and the magic calculation is done for you. Most birthday apps let you struggle with figuring out the age – not this app!
★ Privacy is our priority
🔒 Read and write contacts: Required to import contacts on your request.
🔒 External storage: To backup the app on your phone.
🔒 Start automatically after booting: Start the birthday alarm after phone boot up.
Your data is super secure. All events are only stored on your phone.
(*) some features require Birthdays Premium
★ Good news
We are constantly improving the reminder function, check out "Missing reminders" in the menu to get help in case of an error or send us a mail at [email protected]. We know some birthday apps struggles with reminding you of birthdays, check out Birthdays, we are the most reliable birthday calendar with birthday alarm.
What's new
New Design & Features:
* Much improved navigation
* Completely new design of the greeting card page
* New clear page for backups
* Two new greeting cards
Images