Bookmark Folder app can organize all of your bookmarks in bulk, and you can select launching browsers for each bookmark. Enjoy your website browsing time by customizing the appearance to your liking. You can hide the bookmarks you don't want another person to send the app can create a backup file automatically. So it is secure even if you lost or break your device.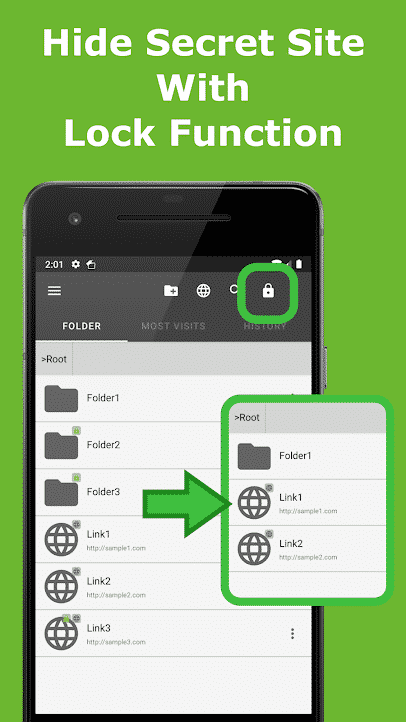 You will never lose your bookmarks.
** Overview **
– Organize favorite web page with directory like a file manager app!
– No more need to re-register bookmarks even if you changed the browser to use.
– Recommended for the user using multiple browsers. This app can choose launching browser.
– Customize the appearance to your liking and make it easy to use.
** Characteristics **
>> Organize bookmarks simply
– Add bookmarks easily from "Share" menu on each browsers.
– Organize bookmarks with directory. No limited directory structure level!
– Hide bookmarks you don't want other person to see with lock function!
– Sort bookmarks manually as you like with dragging.
– Find the item you want to see easily with the favicon and thumbnail of the website.
> Customize to your like
– Choosable launching browser for each bookmarks.
– Choosable item view, List or Grid.
– Customizable background color, text color, text size and etc adjust to your liking.
– Open bookmarks anytime from the status bar.
> Secure backup
– Export backup file of bookmarks.
– With AUTO backup, you will never lose your bookmarks even if your device has been broken!
– Support to save in cloud storage.
> Transfer easily to another device
– Via an HTML bookmark file, you can import bookmarks easily from your PC browser.
– Transfer bookmarks easily to another device via backup file saved in Cloud Storage.
Bookmark Folder Pro APK Latest
>> INSTALL_SHORTCUT
– To create bookmark shortcut to home screen.
>> RECEIVE_BOOT_COMPLETED
– To set notification in status bar when the device is booted.