Developer
SKVALEX Mobile
Released on
Aug 6, 2018
Updated
Mar 22, 2019
Size
30M
Version
3.6.3
Requirements
4.0
Downloads
500,000+
Get it on
mod info
● Full Version Unlocked
● No Trial Limit
● No Separate Key Needed
Description
Call Recorder SKVALEX MOD APK is intended for automatic call recording. The app provides functionality to record both sides on devices with such support. But some devices don't have 2-way call recording support or have issues with Bluetooth recording.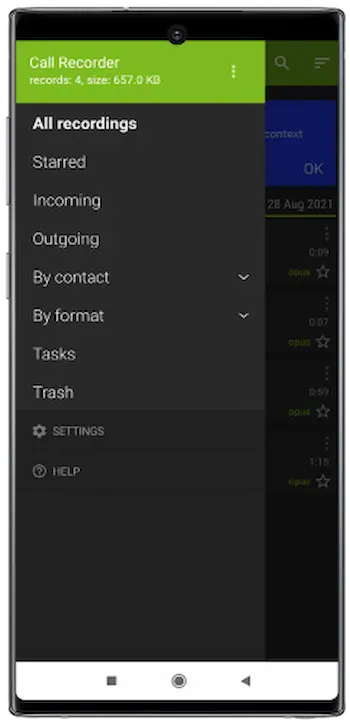 Also, the app provides wide functionality to manage recordings:
– Search recordings
– Conversion from one format to another (e.g WAV to FLAC/OPUS/MP3/etc.)
– Adding notes to recorded files
– In-call control button while call recording: you can easily start/stop recording during a call
– Enter the app using the password (or fingerprint)
– Auto clean-up – automatically removes old recordings according to rules set by you. Starred recordings were ignored.
– Exceptions: you may set up phone numbers, contacts, or groups for specific actions, like always record or do not
– Filename template: you can easily change the structure of created files
– Cloud backup support
– Playback recording over main speaker or handset speaker
– Access recording from within contact info
– Call confirm: the app will ask you whether you want to make a call or not
– After call actions dialog: the app will ask what to do with a recorded call
– Vibrate on-call start/end
What's new
To comply with the new Play Store policy:
- this version cannot detect phone numbers
- this version doesn't have call confirm option
In case of problems, contact me via email.
Images