Developer
WECHOICE MOBILE
Released on
Jul 26, 2021
Updated
Oct 26, 2023
Size
35M
Version
1.5.0
Requirements
6.0
Downloads
1,000,000+
Get it on
Mod Info
✪ Premium Features Unlocked
✪ Multi Languages
✪ CPUs: universal
✪ Debug Info Removed
Description
Control Center: IOS 17 – android to ios is a floating panel on your Android screen to allow you instant access to many essential and favorite apps with one tap. control center is an easy tool for Android devices to access everything, making your phone look like a real control-center.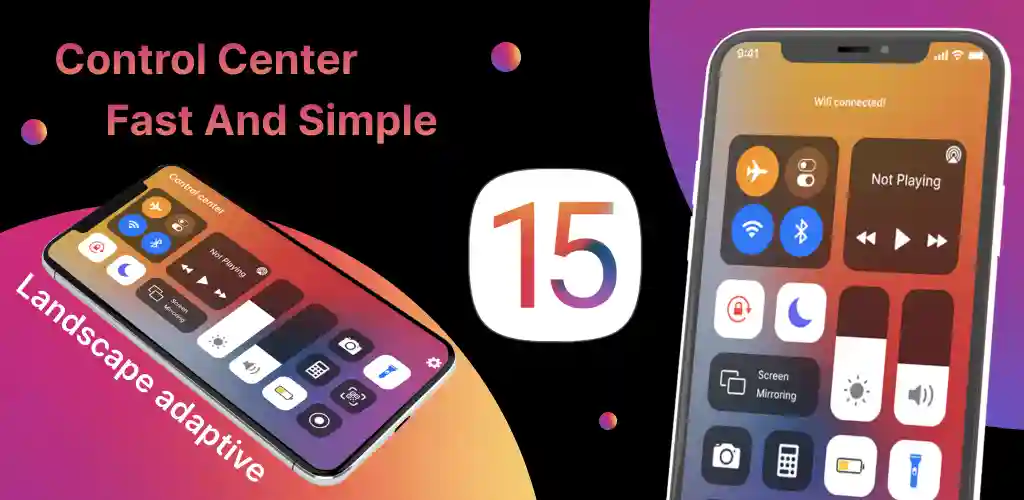 With this convenient Control Center android to ios, you definitely access your Camera, Flashlight, wifi, screen mirroring, change volume button, dark mode, screenshot, screen recording, etc with ease. Moreover, Phone 13 allows you not only to customize your favorite apps like games or anything you love but also to adjust the interface of the assistive touch which suits your taste. The most impressive feature of this ios17 is the flexible position of the icon to open Phone widgets.
How to use:
– Get ios 17 – Phone app in CH play
– To open control center: swipe up, swipe down, swipe right, or swipe left from the edge of the screen. Your calling gesture depends on your settings when you install and set up the apple control.
– To close control-center: Swipe up, swipe down, swipe left or tap the top of the screen, or press the Back, Home, Recent button.
Highlighted features:
Instant access functions
– Airplane mode: turning off Bluetooth, Wifi and cellular connection
– Wifi, Bluetooth, and flashlight
– Do not disturb: silence calls, alerts, and notifications
– Adjust brightness and volume
– Dark mode
– Portrait Orientation lock and saving battery.
Intelligent interface
– Interface of Phone 13 looks like the real one on Phone or Pad running Phone app, you will feel eager to experience notable features of Apple devices on your Android instead of buying Apple ones.
– Easily add or remove any functions or apps with a tap.
Customize your favorite app to the notification center
– You can allow the ios 17 – Phone widgets to connect with apps that are usually opened.
– Our suggested functions such as camera, note, calculator, music player, QR code, alarm, and voice memos. These functions are duplicated Apple developer's design and feature, which makes you undergo the real ios17.
Customize your own control center interface
– Changing the background of the Phone widgets
– Shifting color and shape of the button
– Changing how noti displays on your screen.
– Changing your liking font text in the Phone app
Flexible to set up the position of control-center on Screen
– You can choose the position of Phone 13 in settings
– We provide 4 positions, they are the top, the down, the left, and the right edge of the screen. You are free to pick one which gives you the feeling of convenience.
IOS 17 – android to ios is a free application, with this control center you mightn't want to buy an Phone or Pad running ios17 anymore. This notification center will be your best virtual assistance working on your Android phone. Download control-center now to have an amazing experience which only belongs to Phone 13 users.
Images