Developer
DAILY FITNESS
Updated
Jul 31, 2023
Size
52M
Version
8.33.01
Requirements
4.4
Downloads
10,000,000+
Get it on
Description
Daily yoga is the best yoga app on Android which guards your health every day with your yoga studio on the go! Daily Yoga is a yoga coaching app suitable for all levels – beginners, intermediate and advanced. More than 50 HD yoga exercises and 500 yoga poses are shown in beautiful HD videos, live voice guides, and soothing yoga music.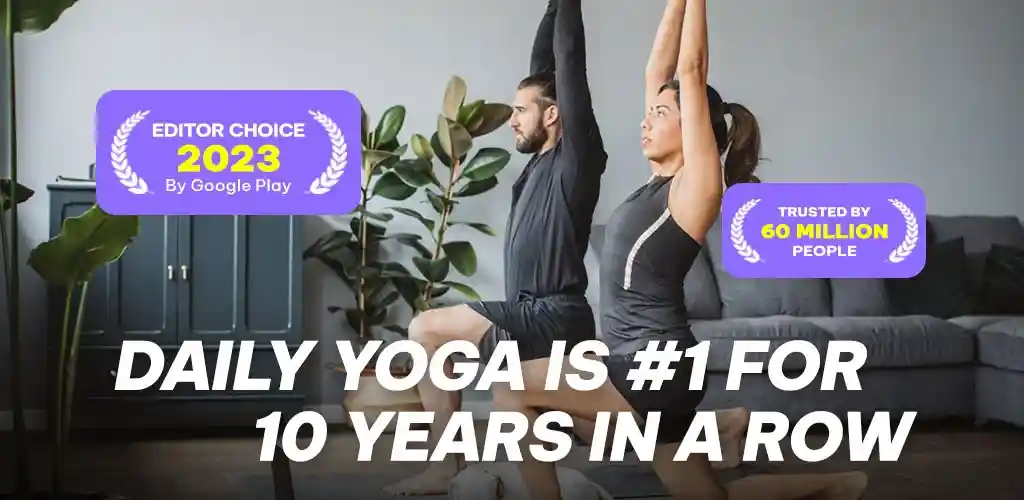 Various Classes Fit Your Goal
Daily Yoga offers 500+ asanas, 70+ yoga programs, 500+ guided yoga, pilates, meditation sessions plus the largest yoga pose library for man and woman that suit yogis from beginner to advanced. Not only helps you stay with yoga every day, but also provides health benefits for both your mind and body.
Follow the World-Class Master
Altogether 20 yoga masters who are globally respected or the initiator of yoga styles focus on yoga for weight loss, beginner to advanced, better sleep & full relaxation. Aim to make it easier & convenient to do yoga workouts and provide programs that align with your current goals. All sessions are taught in English.
Motivated by Community
The community in Daily Yoga App brings yogis from all over the world closer to one another. Yogis gather here to discuss their practicing experience under the topics, tag and encourage each other to finish the challenge, follow the Yoga Tips to improve their techniques, prepare the weight-control meals according to the selected recipes. Never feel lonely, and become more limber with other motivated yogis around you.
Create Private Yoga Plan
Don't like to choose the default plan? You can create yours. A private Yoga plan is a cycle of 7 days. Set the workout days and rest days according to your schedule. Then you can combine yoga sessions to each workout day according to your need. If you know your body well, please give it a try to make your workout more efficient.
Adjust to Your Habits
Multiple choices for session duration varied from 5 – 70 minutes to fit your schedule, and 7 languages are available worldwide (English, Japanese, Korean, Spanish, Chinese, German, French). Support for Dark Mode to help to prevent eye strain.
Track Your Activity
Personal data from various devices can be tracked in App. With a smartwatch, you can track your exercise duration and calories burned and heart rate to contribute to your activity rings and meet your daily goals.
While you are waiting for the update to install, try this easy abdominal breathing: draw your abdomen inward to stabilize your core. As you inhale, bring your fingertips to touch in front of the belly. As you exhale, open your hands out to the sides. Inhale the future, exhale the past. Have fun with it!
What's new
- New course in August: Digestion Flow Workout, Back and Neck Relief
- New ebook: The Ultimate Guide to Yoga Sequencing
- Preview of practice supported before starting your Daily Goal
- Fixed some issues
If something doesn't work for you, or you have any great ideas, welcome to contact us at [email protected].
Images