Developer
Monsterscope
Updated
Jun 6, 2023
Size
374M
Version
1.2.3
Requirements
8.0
Downloads
100,000+
Get it on
Mod Info
Available options for control from the menu
– unlimited crystals
– skill cooldown
– god mode

Attention – Account BAN is possible!!!
If the crystals did not appear – Restart the game.
Description
Dawnblade Mod APK perfectly combines addictive gameplay with beautiful graphics will be a role-playing game not to be missed. Transform into mighty warriors and use combat skills to defeat hordes of monsters.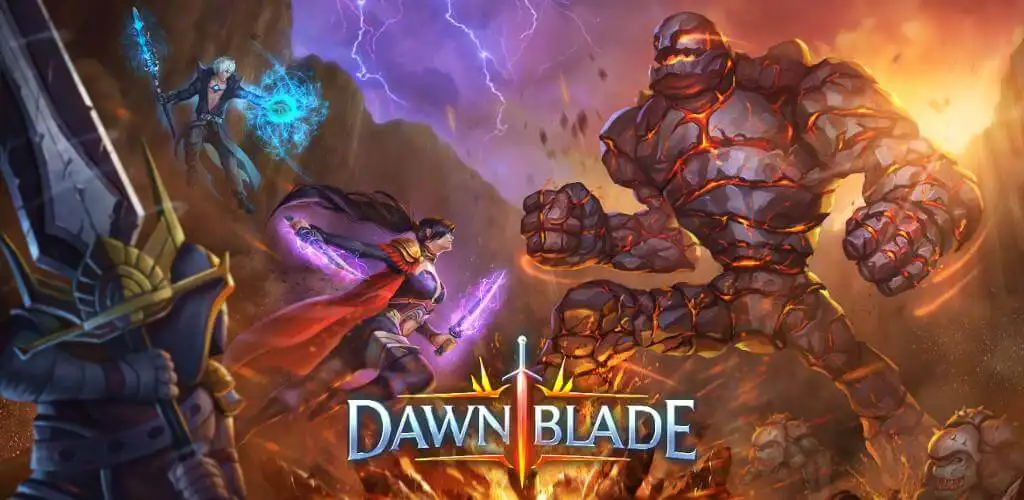 Darkness rises upon the realm of men. It is time for a legendary hero to rise and defeat the demon king named Inferno.
🔥 ⚔️ 🔥 You are an Immortal warrior, the last remnant of the Shadow Slayers guild. Your Adventure awaits in this role-playing, action packed, hack and slash game. Unleash your blade and become a legend by delivering hell upon your demon foes.
🔥 ⚔️ 🔥 Dawnblade is a painstakingly crafted dungeon hunter, boss-battling ARPG experience for your smartphone. Do you enjoy solo quests? Raid Dawnblade's more than 50 single-player dungeons. Do you want combat? Dawnblade: PVP features intense multiplayer battles to climb to the top of the leaderboards.
🔥 ⚔️ 🔥 Become a brave dungeon hunter, bounty hunting blade master, or be a grinder always looking for a greater loot. No matter which of the endless paths you choose there is a great adventure awaiting you.
FACE YOUR LINEAGE TODAY!
⚔️ DISCOVER THE WORLD OF DEMONS
Explore dozens of locations, run through forests, hellish dungeons, ice caverns, ancient ruins, and many more diverse environments.
⚔️ RAID DUNGEONS
Fight against beasts, demons, golems, trolls, shamans and, of course, the giant snowman! Raid enemy bastions with powerful attacks and spell combinations. Hunt down Inferno, the king of demons, the Blizzard Queen and other challenging bosses.
⚔️ CRAFT YOUR GEAR
Fill your inventory with weapons, armors, wings, and lots of different loot from your battlefields. Enhance your equipment by fusing it with the hearthstone and vast variety of mystical ingredients. Collect enchanted kings feathers, scrolls, and other mighty charms. Create immortal weapons of war like the Paladin Blade, or Dark Demon Wings.
⚔️ COMPETE WITH OTHER PLAYERS
Take part in the contest of champions. Test yourself against other mighty warriors at the PVP Arena and battle your way to the top ranks.
⚔️ PARTICIPATE IN EVENTS AND CHALLENGES
Boost your experience and claim unique rewards by entering Daily and Weekly Events as well as seasonal events like Halloween, Xmas, and more. Become a god of war by fighting waves of diabolical hordes of monsters.
⚔️ UNRIVALED MOBILE ARPG EXPERIENCE
– Always feel in command. Whether you're on PVP or fighting hordes of monsters solo.
– The use of directional controls makes it simple to move your game role around the world.
– Activating a skill is as simple as holding your thumb down on a skill to aim, then releasing it to wreak havoc on your enemies/bosses.
⚔️ HACK AND SLASH
Run, fight, crash, slay, craft, rave, raid, and grind but most of all enjoy one of the RPG mobile legends.
⚔️CUSTOMIZE YOUR CHARACTERS AND GEAR!
Dawnblade gives you unprecedented freedom in this adventure world to be whoever you want to be.
– Choose the highly recognizable role-playing classes of Blademaster, Assassin, and Archmage.
– Develop new battle skills and compete to become the most powerful player in the PVP arena.
– Arm yourself with brand-new set items and legendary weapons.
– Level up your favorite weapons so they can grow in power and glow with a red aura.
– Collect and train battle pets. Each pet has unique battle abilities that help your hero.
⚔️ AN EPIC ADVENTURE AWAITS YOU
Immerse yourself in dozens of hours of an epic story. Take the journey to become a true god of war. Challenge yourself on different difficulty levels. Use controls designed exclusively for mobile devices. Experience old school RPG gameplay. Join hardcore Hack and Sash fans appreciating this Action RPG.
⚔️ AAA QUALITY MOBILE GAME
3D console-like graphics and old-school feeling of classic RPG games!
Spectacular special effects and smooth gameplay.
Find out that a mobile RPG in epic AAA quality is possible.
Enjoy 7 chapters of the Dawnblade adventure with more on the way.
🔹Join the community🔹
Discord: https://discord.gg/pWwbuJy
Facebook: www.facebook.com/dawnbladegame
What's new
Stability Improvements
- Fixed network issues on some devices
- Optimised performance
- General bug fixes
Images